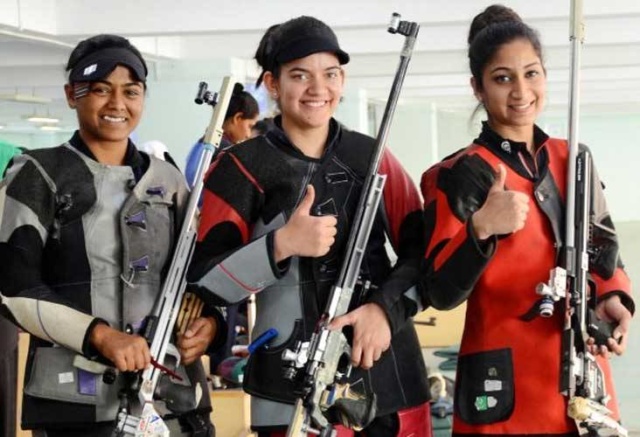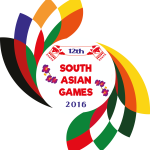 It is turning out to be an outing of unprecedented dominance by Indian shooters at the 12th South Asian Games in Guwahati. The fourth day of the shooting competitions witnessed yet another clean sweep by India as it finished with all the six gold medals on offer on Saturday.
The domination on Saturday was such that in the three events of the day, India swept all the individual medals in two while winning a gold and a bronze in the remaining one.
Pakistan's Kaleemullah in Men's 10m Air Pistol was the lone non-Indian to get an individual medal on Saturday, bagging a silver.
With Saturday's show, the star-studded Indian shooting team, which has six Rio Olympic quota winners, has taken its tally to 18 gold, 8 silver and 8 bronze in four days. Two days are left in the competition.
Indian shooters have only lost one title (Men's 50m Free Pistol) out of the seven decided so far.
There was a tough fight for the gold in the finals of Women's 50m Rifle Three Positions between Anjum Moudgil and Elizabeth Susan Koshy.
Moudgil was the better of the two in the kneeling position but Koshy made up the deficit with a strong show in prone.
But, Moudgil took control in the standing position and had taken such a huge lead, that even a poor 8.0 in the gold medal deciding round could not stop her from grabbing the top spot with a total score of 452.2. Koshy was second with a total of 451.9 while another Indian, Lajja Gauswami, took the bronze.
India also took the team gold medal in the event with a total score of 1726, Sri Lanka won the silver with 1686 while Pakistan won the bronze with 1656.
Rahi wins gold in 25m Pistol
In the women's 25m pistol final, Rahi Sarnobat won the gold medal match against compatriot Annu Raj Singh 8-2, while Anisa Sayyed took the bronze by prevailing over Farhat Nasreen of Pakistan.
India took the team gold with Rahi, Anisa and Annu Raj scoring a total of 1741. Sri Lanka (1654) and Pakistan (1631) got the silver and bronze respectively.
Omkar wins gold in 10m Air Pistol
The Indian domination continued in the 10m range as well as 2010 Delhi Commonwealth Games champion Omkar Singh took the gold in the individual event of the Men's 10m Air Pistol as he finished ahead of Pakistan's Kaleemullah with a score of 198.8. Jitendra Vibhute won the bronze for the home team with 175.1.
Olympic quota winner Gurpreet Singh, the third Indian entrant in Men's 10m Air Pistol came up with a disappointing performance as he finished sixth in the event.
Omkar, Gurpreet and Jitendra took the team gold in Men's 10m Air Pistol with a total score of 1735. Pakistan (1700) and Sri Lanka (1663) took the silver and bronze respectively.
The Results:
Men's 10m Air Pistol: 1. Omkar Singh (198.8) 583, 2. Kaleemullah (Pak) 198.1 (569), 3. Jitendra Vibhute 175.1 (576). Team: 1. India 1735, 2. Pakistan 1700, 3. Sri Lanka 1663.
Women's 25m Pistol:1. Rahi Sarnobat, 2. Annu Raj Singh, 3. Anisa Sayeed. Team: 1. India 1741, 2. Sri Lanka 1654, 3. Pakistan 1631.
Women's 50m Rifle Three Positions: 1. Anjum Moudgil 452.2 (580), 2. Elizabeth Susan Koshy 451.9 (576), 3. Lajja Gauswami 429.9 (568). Team: 1. India 1726, 2. Sri Lanka 1686, 3. Pakistan 1631.
Comments