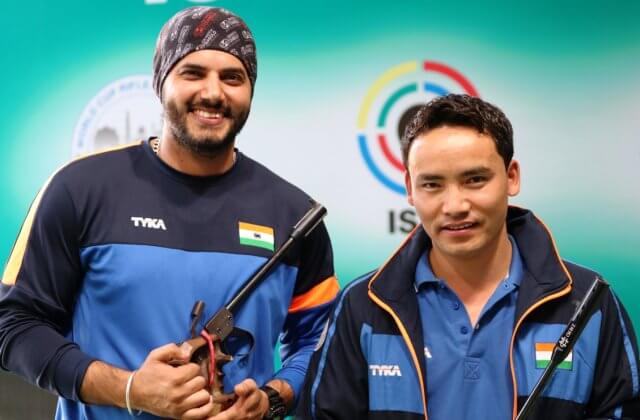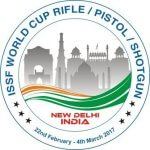 Jitu Rai and Amanpreet Singh made it a one-two for India in the Men's 50m Pistol at the ongoing ISSF World Cup in New Delhi.
The 29-year-old Jitu made yet another stirring comeback to claim the gold while compatriot Amanpreet Singh who was in the lead for the most time eventually settled for the silver in a dramatic final.
Jitu shot a world record score of 230.1 to bag his second medal after he won the bronze in the 10m Air Pistol on Tuesday.
The Army shooter was placed sixth with 93.8 after the end of the first competition stage. At that point Amanpreet was leading the eight—man final field with 98.9. Amanpreet then extended his domination with a series of high scores which included two consecutive shots of 10.6, even as Jitu tried to make his way back into contention.
A stunning 10.8 on the 15th shot proved to be crucial for Jitu, who jumped from sixth to the third position. Jitu kept his cool to eventually set up a gold medal match with Amanpreet Singh to delight the Indian supporters who were assured of a gold and silver.
Before the final two shots to decide the gold, Jitu was still 0.3 points behind Amanpreet. He was bang on target with shots of 10.0 and 10.5 to snatch the gold from Amanpreet who could muster only 8.8 and 8.2.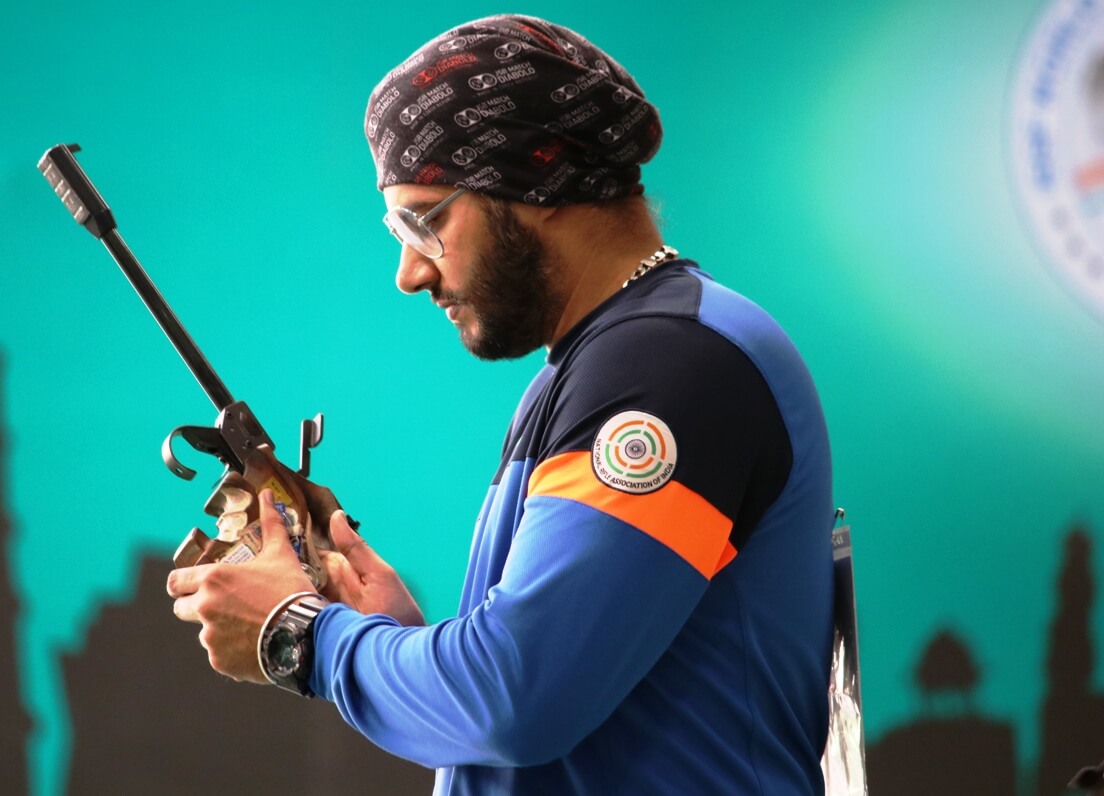 "It's amazing to win the gold in front of my supporters. It's a great honour and a true emotion to hear our national anthem and see the Indian flag flying high," said Jitu.
Jitu now has eight World Cup medals to his name, making him India's highest World Cup medal winner.
"I closed the 2016 season with a World Cup Final silver, and I always dreamed about starting 2017 in the best way here in India. I am planning to compete in all World Cup stages this year. We have ISSF World Cup Munich ahead of us, and I will work to correct a few things before flying there. I am looking forward to the rest of the season," added Jitu.
The 29-year-old Amanpreet who was competing in a World Cup after a gap of more than three years was thrilled to win his maiden medal in a World Cup.
Amanpreet, who had won a silver in the junior category at the Asian Shooting Championship in 2007 in Kuwait, was happy with his performance.
In the qualification, Jitu shot a score of 559 (93,95,92,97,90,92) while Amanpreet shot 561 (94,94,94,92,94,93).
Gurpal Singh, the third shooter in the team, shot 549 (91,93,90,88,93,94) to finish 12th.
Olympian Prakash Nanjappa shot the best in the qualification once again, with 564 (95,94,94,94,92,95) in the Minimum Qualification Score (MQS) category, the way he had done earlier in 10m Air Pistol.
The second MQS shooter from India, Om Prakash Mitharval shot 549 (93,90,87,93,93,93).
The bronze was won by Vahid Golkhandan of Iran.
The Results:
Men's 50m Pistol: 1. Jitu Rai 230.1 (WR) 559; 2. Amanpreet Singh 226.9 (561); 3. Vahid Golkhandan (IRI) 208.0 (553); 12. Gurpal Singh 549. MQS: Prakash Nanjappa 564; Om Prakash Mitharval 549.
Comments