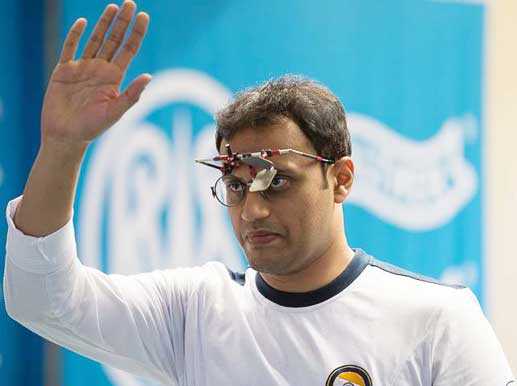 Prakash Nanjappa won an Olympic quota for the 2016 Rio Olympics after finishing eighth in Men's 50m Free Pistol at the ISSF World Cup in Gabala, Azerbaijan.
The 39-year-old Bangalore-based is the sixth Indian shooter to win an Olympic berth for Rio Olympics next year.
Prakash shot the second best qualification score of 567 and made it to the finals which closed at 562 today. However Nanjappa was the first to be eliminated after shooting 70.1 in the finals. His two bad shots of 7.4 and 7.5 made him exit early from the finals. Nevertheless, an eight place finish was good enough for the quota place.
Speaking to indianshooting.com, Prakash said, "It's a great feeling to contribute a small accomplishment for my country. My qualification round was good but in the finals the light on the target was too less so my eyes could not focus on it".
Jitu Rai, who already is an Olympic quota winner, did well in the finals to finish fourth. He shot two consecutive 10.7 but still fell short of 0.8 points to grab the bronze.
Back in April 2013, fresh from a World Cup bronze won in Changwon, Korea, Nanjappa had traveled to Granada in Spain for another World Cup. Unfortunately, he was hit by an attack of facial paralysis (Bells Palsy), which meant he could not close his right eye and his facial muscles began to sag, the day after he reached Granada. He flew back immediately, underwent a course of heavy medication and six months later was back with a pistol in hand.
Since then, Nanjappa has really taken off as a shooter. He won the silver medal at the 6th Asian Airgun Championship in Tehran and won a silver and bronze each at the Commonwealth Games in Glasgow and Asian Games in Incheon, respectively.
Besides Nanjappa and Jitu Rai, Abhinav Bindra, Gagan Narang, Apurvi Chandela and Gurpreet Singh are the other quota winners for India.
Comments