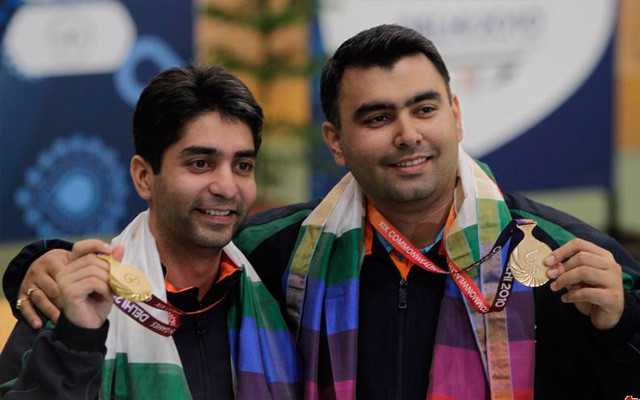 The expectations are surging once again with each passing day and there is hope that two of India's living legends — Beijing Olympic Games gold-medallist Abhinav Bindra and Gagan Narang — will do the country proud come July 30. It sounds so flattering when we say that we are the defending champions in 10m air rifle, but the nature of the sport is such that not matter how hard you train — or how ambitiously you pursue your goal — you can never predict a medal with certainty.
Unlike in tennis, where we know a certain player has a good chance of winning a Grand Slam, in shooting, we can't pinpoint a particular name, as everyone who has won a quota is good enough to make it to the podium.
The difference in qualification points of the ultimate gold-medal winner and the 10th place finisher in London will not be more than two or three points. As per the current form of the world's best shooters, a qualification score of 598 should easily get Abhinav and Gagan into the finals. Which means they have the 'liberty' to shoot two shots each on the 9th ring out of the 60 shots. An addition 9 would make things tough for them but they could even qualify with a 597 in the bottom four out of the eight finalists. A point lesser than that, 596, will certainly not be a clear qualification and shooters would need to go through a shoot-off to win the bottom slots in the finals.
The job is half done after the qualification round, the battle of nerves start from there. After a break, the top eight finalists will then play a final ten-shot match, the score of which will be added to their qualification scores to decide the winners.
Abhinav and Gagan have left no stone unturned in their preparation for this day. Abhinav has shown his fine form as he shot a qualification score of 598 and 104 in the finals to win gold at a competition in France recently. But both know well that past performances and all their medals and awards would count for nothing on July 30.
As they finish their sighters (shots given to set the rifle) and take aim for their first-record shot of the qualification, the pressure of the first shot can be huge but both have trained their mind and know how to take control of such situations and keep the pressure off. If you are shooting good, the pressure rises once again as you are nearing the end. If they can control their mind and remain focused on both these occasions, we will be in for a good show.
Although all the competitors are capable of a final berth, but my analysis is that Abhinav and Gagan will face the stiffest challenge from Chinese shooter, Zhu Qinan, who will go all out to beat the Indians and reclaim his Olympic gold which he won in Athens (2004).
Zhu had settled for silver at Beijing behind Bindra and was seen in tears standing on the podium. Another Chinese, Wang Tao, is also a very strong contender. He has never shot less than 595 at any of the World Cups he has participated in till now. However, the London Games will be his first Olympics. Besides the Chinese challenge, there is the current world champion from Italy, Niccolo Campriani.
Incidentally Bindra and Campriani share the same coach, Gabby Buehlmann, and then there is the Hungarian shooter Sidi Peter who recently updated his training score on facebook — the score read a perfect 600 with the message "As always-So boring". Hope our boys missed that update.
The author is a rifle shooter and founder of indianshooting.com
Comments