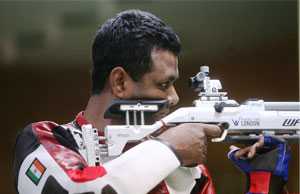 In 1998 when we were told that a foreign rifle coach had come and would be here to train us for the next two years, we were instantly excited with the idea as till then the Indian rifle shooters had practically no one to look up to.
My first meeting with Laszlo Szucsak and he straight away asked me to change the kit in which I was shooting, we used to wear 16 year old kits bought by SAI at the time of 1982 Asiad with holes and rotten leather full of stink familiar to rifle shooters. Within a few days most shooters had ordered Korean canvas kits as recommended by Laszlo, I still remember he had promised that if we changed our kits then straight away our scores would jump around 10 points. This is what coaches are all about right advice at the right time, as promised our scores literally jumped from around 570 to 580-585. Indian rifle shooters had taken a giant leap.
He stayed on for two years and many shooters could touch the 590 mark which was only a distant dream till then. One shooter who really jelled well with him was Anjali Bhagwat who made the most of him and started shooting world level scores soon. Anjali went on to be the finalist at the 2000 Sydney Olympics. Laszlo also worked hard with Abhinav Bindra during his first tenure and Abhinav as the youngest participant at the 2000 Olympics then just missed the finals by a point.
He had a great vision and a knack to identify talent. Some of the shooters picked up by him for national camps all proved him right within a short span of time. He is not only a high performance coach but an expert with rifle equipment and was often seen working like a carpenter at the ranges trying to make the perfect gun fit with his tools and sometimes even doing the electrician's job. He also has repaired many rifles in India.
After Olympics Laszlo went to Japan to train their shooting team but I always felt his heart was with the Indian shooters, I kept a contact with him and he was still very helpfull through the emails.
In 2004 he came back to India again, this time he was changed man who was well aware of the working of the sports administration system in India. He was more patient as he knew our system well. At the national championships in that year he told me that India was now ready for an Olympic gold. In this tenure the rifle shooters like Gagan Narang and many others touched dizzy heigts. The rifle shooters won everything, Olympic gold, junior and senior world championships, world cup titles and set new world records and that too in a single rifle event, men's air rifle.
It is sad that a coach of Laszlo's standard had to leave the Indian team at such a crucial time before next year's Commonwealth Games. When I met him over a cup coffee just a day before he was leaving, I could feel he still wanted to be with the Indian shooters, probably he might or he might not come back again but the foundation which he has built for the sport of rifle shooting in India is so strong that it will always give us reasons to smile for years and years to come.
Comments