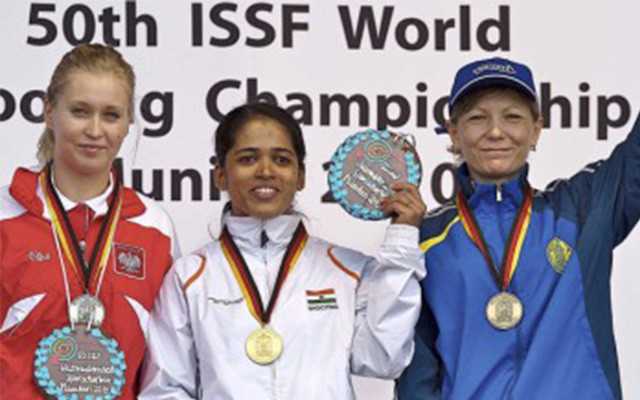 When Tejaswini Sawant, the newly crowned World Champion in Munich, alighted at the swanky IGI Airport recently, the mind eye went back to the days we were all part of the national squad, training together at various national camps.
I remember the day eight years back when, while training at a national camp in Delhi, someone broke the news that Tejaswini had made it to the team for her first international competition. She was very happy but, at the same time, disturbed because she didnÔÇÖt have a passport.
She had to immediately rush to Mumbai for completing the formalities and I remember driving her from the Karni Singh shooting ranges to the airport that afternoon. That was my first personal interaction with Teju, as she was fondly called. She made the flight and was back in Delhi with the passport, just in time to board the flight for her first international event.
There has been no looking back for the girl from Kolhapur. Incidentally, the town has also produced another world champion—Navnath Fartarde, who became the junior world champion in 2006 (Zagreb).
Tejaswini is a thorough professional; she knows the art of balancing work and training very well. A couple of years back, we had organised a camp at the Balewadi Complex in Pune where she was working as a deputy director. Needless to say, she played a perfect host.
Tejaswini started shooting world-class scores from 2003 onwards in air rifle and went on to win two gold medals at the 2006 Commonwealth Games in Melbourne. Later, with the help of our former coach, Laszlo Szucsak, she started focussing on the 50m prone and three-position events.
I remember coach Laszlo saying once that Teju is a rifle shooter for the future. I remember how Tejaswini and her 2006 CWG team-mate, Avneet Sidhu, had replaced the more experienced shooters, Anjali Bhagwat and Suma Shirur that year.
The pair was very new but did not disappoint and gave us two gold and two silver medals. Avneet, who won silver that year, was luckier as she went on to qualify for the Beijing Games.
After missing out on a Beijing quota, there was a low in Tejaswini life, the only major achievement being a bronze medal at a World Cup last year. She even lost her father while she was competing at the Commonwealth Shooting Championship earlier this year but never gave up. She skipped a couple of competitions this year but trained hard to emerge a world champion. indianshooting.com
Comments