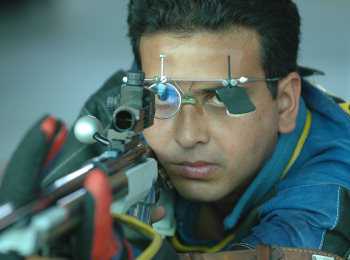 It's definately a very big moment for me to cherish my old dream of becoming the first Indian shooter to win a World Cup medal in the rifle prone event. But it is also very encouraging to see many more Indians finishing in the final bracket of the prestigious ISSF World Cups.
I honestly confess that I'm more happy with the ammunition shooters going in the top bracket as a few years back it was almost regarded as impossible to be the best in the world in the smallbore events!. The air shooters don't need any preface as they have already proved themselves in the top league many a times. In India, a smallbore shooter has to face numerous hurdles, from economic to legality and not to mention about the difficult import procedure of the smallbore ammunition.
Inspite of all that, I can boast that though we lack the conventional requirements of a world class smallbore shooter if compared to other top shooting nations but with our sheer will and immense talent we can defeat anybody in the world!
The current scenario in shooting demands good coaches to nurture the new talents so that they don't have to struggle like us, also a second line of expert coaches who can take up to assist the shooters, thus making the foreign coaches work more efficient, practical and effective.
Nextly I would like to point out that lack of socio-economic advantage of an elite Indian shooter! It is quite evident that the apathy is an understandable drawback of this sport. I will stress on the fact that if any other "popular" sport would have had so many athletes in the top world rankings, a huge uproar and a deluge of money would engulf it! What about us?. Anonymity! Are we less talented? Less successful? No. We are "The Best" in Indian Sport, but we are unpaid.
We all know that more Olympic medals will be won, more world champions will be made, more world records will be broken by the Indian shooters. Even when a single penny is not awarded to us for our wins, our passion for the sport and for our country is what keeps us going. We will keep shooting down medals.
The author is an Olympic finalist in Men's 50m Rifle Prone.
Comments