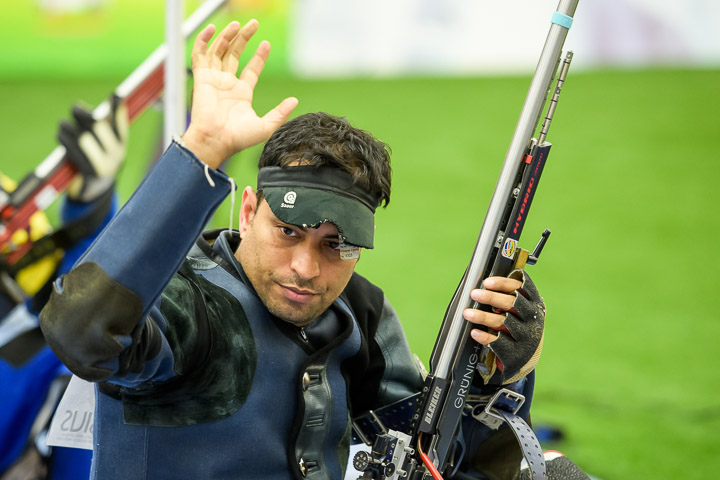 It's a travesty of sorts that the person who is 'peaking' at the right time will not be a member of the Indian shooting team that would be boarding the flight to Rio for the Olympic Games beginning August 5.
Anyone else would have suffered a huge blow to his morale — not to mention a dislike for the sport he has pursued for a good part of his life — but not Sanjeev Rajput.
The former Navy marksman, despite knowing that he might not be the 'chosen one' even as he was earning an Olympic quota for the country – at the Asian Olympic qualifiers in Delhi not so long back — decided to give it his best shot and managed to bag one of those prized slots. Only to see someone else getting to don India colours at Rio.
One needs nerves of steel to handle such a situation and Rajput has shown he is made of sterner stuff. Despite all the dejection, he recently won the rifle three position silver at the ISSF World Cup in Baku where Olympic-bound shooters fumbled.
No one in the shooting fraternity can forget how he bailed India out recently. India were in for some major embarrassment during the Asian Olympic qualifiers in January this year as, contrary to expectations, some big names failed to earn a quota on home soil. That's when Sanjeev ensured that India nudged past the tally of 11 shooters at the last Olympics, winning the quota on the final day.
His last shot in the finals had put a big smile on every Indian's face present at the Karni Singh shooting range. At last, the three-day barren run in the competition had ended.
Gagan Narang, who had a quota in rifle prone, was ahead of Rajput in the Olympic rankings in 3-position and so was named instead of Rajput.
Gagan, in fact, has been named in all three rifle events. He will be teaming up with Abhinav Bindra in air rifle and with Chain Singh in prone and 3-position events.
Preparing for all three events at the Olympics will be an uphill task for Gagan. The perfect situation would have been that the 3-position slot be given to the quota winner Rajput, who is a 3-position specialist.
I feel it would have become easier for Gagan to focus on only two events, instead of three, though I must say that one can expect a medal from Gagan in 3-position on any given day, including at the Olympic level.
A very thin margin of points separates Gagan and Rajput who are ranked two and three, respectively in the Olympic rankings. The first being Chain Singh, who like Rajput is also a quota winner in the event.
Rajput has had a tough 2015 where he had to change his rifle clothing three times, trying to find the best fitting kit. The changes affected his performance. He also left the Navy in 2014 and it took him a while to adjust to the change in lifestyle. Without a job, Rajput was struggling but started regaining form this year.
His personal best is 1176, which he registered at an ISSF World Cup in which he also won the gold. This is the highest score by an Indian in the event at an ISSF-recognised competition.
The selectors should have taken Rajput's fighting spirit into account before taking the decision to award the quota earned by him for the country to someone else.
The writer is a rifle shooter and the founder of indianshooting.com.
Comments