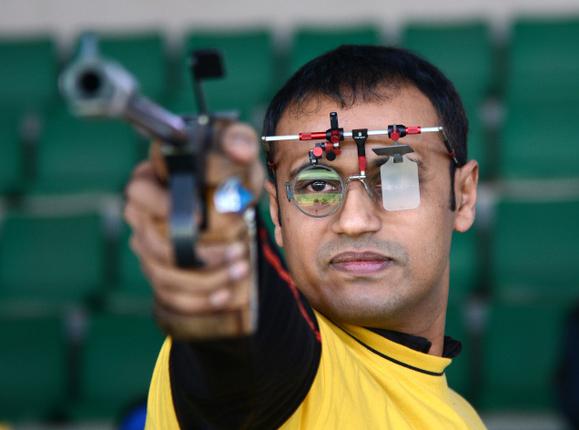 Prakash Nanjappa remembers the day in 2013 when he had just arrived in the Spanish city of Granada for the ISSF World Cup, but felt something was terribly wrong with him. He sipped on some water and it spilled out of his mouth. He looked in the mirror. The right side of his face was paralysed. He was rushed to a hospital where it was confirmed that he had suffered an attack of Bell's palsy. Two years later, he has grabbed an Olympic quota for India. In an interview with indianshooting.com, Prakash talks about his shooting journey and how he bounced back so strongly from the paralytic attack.
Excerpts:
Did you ever dream about being in the Olympics when you started shooting?
When I started, my aim was to do well in this sport but never thought of the Olympics. But at a later stage when I started shooting world-class scores, I started dreaming about Olympics.
Do you remember any particular shooter who impressed you early on?
Yes, Jaspal Rana and Samaresh Jung inspired me.
Who encouraged you to pursue the sport?
My parents.
Why did you take a break from shooting in 2003 and what made you come back?
I took a break because of financial issues, and for career benefits I went to Canada to seek job opportunities. I was always missing shooting and I had almost quit shooting but then when I spoke to my father, he re-inspired me to pick it up. When I equaled the Canadian National Record and won gold, it boosted my confidence. This was the time when Abhinav Bindra won the first ever gold in shooting at the Olympics for our country. That's when I dream't of the Olympics and felt instead of representing some other country in the Olympic, I wanted to represent my country and win a medal.
Did you notice a change in the sport on your return after a gap of six years?
Yes, indeed. I saw great seriousness in this sport. I found a great change in the mind-set of athletes, which is very good for the sports in India.
Who is coaching you at the moment and what's your training strategy going to be from now on?
My father PN Papanna who is an ISSF-certified coach is my personal trainer and Pavel Smirnov, being the national coach, is guiding me.
You had suffered a paralytic attack during a World Cup in 2013. What happened?
After missing gold in the Korea World Cup and settling for bronze, I wanted to strike gold in Granada World Cup. My training was awesome and I was in good form. The earlier bronze medal gave me a lot of confidence and my preparation was too good. When I landed in Granada, I started to feel like no control on my facial muscles. I thought it could be because of over training and my muscles were tired. The following morning when I got up and when to brush my teeth I was not able to hold water in my mouth. That's when I realised something was wrong but still not aware of the actual fact. I rushed to the NRAI officials, Wajid Ali and Chandel who were with the team and they saw me and immediately rushed me to hospital in Granada. At the hospital when I was not attended immediately, it was because of these two officials that they started attending to me on an emergency basis. The senior doctor then diagnosed that's it's Bell's palsy and I was immediately given medicines.
Did you ever think you could no longer shoot after the paralytic attack?
I was very much prepared to play in the World Cup but quite disappointed when the senior doctor in the Granada hospital did not certify me to contest and told me to take six months off from shooting as the main reason being it had affected the right side of my face – I was not able to close my right eye. I had to even put a tape on my eye while sleeping so that it wouldn't open.
How were you able to make such a strong comeback after recovering?
I could not have recovered so fast without the support of my family, friends and NRAI. I was treated in SAI Bangalore, especially Prashanth spent valuable time and effort in curing my Bell's palsy to a large extent. With the wishes and support of all my well-wishers, I was able to recover fast.
How do you rate your performance at the ISSF World Cup at Gabala?
I missed quota by 0.1 in the World Championship and then my grip broke in the USA World Cup and trigger broke in Munich World Cup, so I was under tremendous pressure to get a quota. Constant training with the coaches and focusing only on performance was the key. I would rate this as 8 out of 10 as there are still a few areas that I need to improve upon.
Comments