Rifle shooter Chain Singh is in red hot form and is most likely to be named in two rifle events for Rio Olympics. He won a gold in the 2014 Asian Championship at Kuwait and very recently was the "Golden Boy" at the 12th South Asian Games after shooting down six gold medals.
indianshooting.com caught up with the 26-year-old Army shooter as he gears up for Rio Olympics. Excerpts:
Did you ever dream of being at the Olympics?
I never thought I could be an Olympian but when I started shooting in 2008 I wanted to be there. I am looking forward to shoot in Rio Olympics later this year.
How is your preparation going for Rio Olympics?
My preparation is going good. I want to do good in the ISSF World Cups this year but I would like to reach a peak form at the time of Olympics. I am working very hard with my coach and I will give my best in Rio.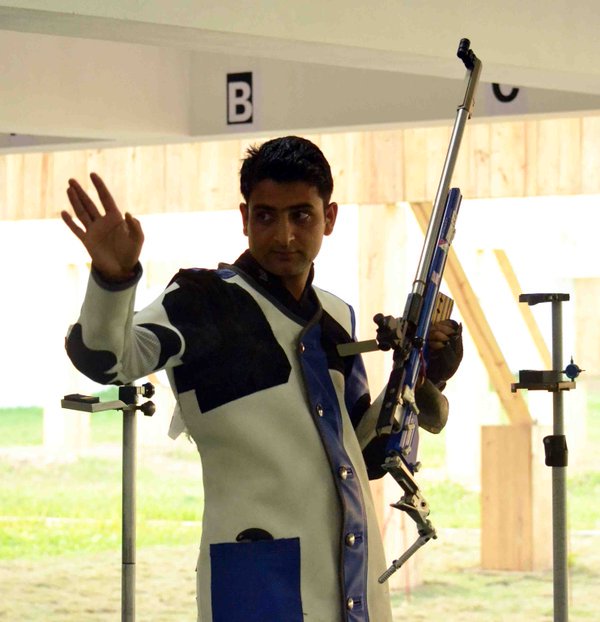 How do you rate your performance in the last six months?
The performance has been fine. I was able to win a few medals in the last few months which has given a boost to my confidence in the run-up to Rio Olympics. I still need to improve upon the scores and also train for the finals.
Who is coaching you?
Since I started shooting I have trained with many coaches but currently I am training with Stanislav Lapidus.
Are you feeling the pressure of Olympics?
Yes am a bit nervous as this will be my first Olympics but at the same time am also excited and am looking forward to be there.
Out of all the three rifle events, which one is your pet event?
I shoot all three events with the same passion but my favorite is 50m Rifle Three Positions. I feel I have a better control over this event.
Do you think you will be shooting in more than one event at Rio?
Yes I would like to compete in minimum two rifle events.
In the 50m Rifle Three Positions event which one do you feel is your weakest position?

I am equally strong in all positions, however these days I am working to improve my standing position.
Did you expect to win all six gold medals at the 12th South Asian Games?

I was expecting to do well at the Games as I have been working hard. I could register good scores because of correct implementation of techniques. I am happy I could win all six gold medals there.
What do you have to say about your performance at the ISSF World Cup in Bangkok?
My qualification score of 626.3 in the air rifle was good. For 50 meter events, I also need to train more in windy conditions as there was a lot of wind blowing during my match.
Are you getting enough support to train for Olympics?
Indian Army is not leaving any stone unturned as we gear up for Rio Olympics.
Which rifles are you currently using?
I am using a Walther Anatomic Expert for Air Rifle and Bleiker Challenger for the prone and three positions events.
Comments