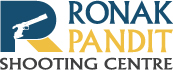 Heena Sidhu's never-say-die attitude has seen her win three back-to-back gold medals at Asian-level shooting and, in the process, an Olympic quota as well. The 26-year-old Mumbai-based pistol shooter talks to indianshooting.com about the adversities she has faced in her journey to the top. In a freewheeling interview, she talks about her Rio Olympics dream, her latest paintings and her new found love for interior decoration.
Excerpts:
How does it feel to make it to your second Olympics? How different is it this time?
Olympics are the ultimate dream of any athlete. I have been working hard and systematically ever since London got over. I realised my weaknesses and worked on them to become a better and stronger shooter. I am looking forward to atleast three more Olympics and podium finishes in all and will be working towards that with an open mind. The experience of the first Olympics has made me aware for what will be in store this time. You don't really realise that pressure of Olympics till you actually reach the Olympic Games village. That's when reality sinks in that you are at the Olympics. Now that I went through it last time and know how it affects me, I have prepared accordingly and will be looking forward to using this situation to my advantage.
Do you think you had to struggle to win the Olympic quota?
Not really struggle but luck was not on my side. Twice I lost the quota on a single inner ten after a tie. This means I was very much there but just that others were luckier to have an extra inner ten. This did add pressure on me but am glad my training worked for me and I could bring out some good performances under really stressful situations. This experience will help at Olympics.
How is your preparation going for Rio Olympics?
We started training in the last week of Feb. Initially for three weeks the focus was more on physical training and basic stability training and then slowly shift more towards technical training. Once I am technically sound then we shift to preparing for competitions. I am working with a good team who are expert professionals and understand me. They are as motivated about the Olympics as I am and I feel we will be able to reach our goals.
How much are you training these days? Do you still don't believe in training the whole day?
Everybody is different and their requirements are different. Training too much is not good for me and we don't just say it, we have tried many different things and made notes and over a period of time we have come to realise what works for me. So today we know what is best for me and even still we keep taking notes and make observations so that we can evolve and get better with every passing day. I do end up training the whole day from 9am till 7pm but it's not at the range, it includes technical training at the range, mental training in my room and then physical training in the gym.
What did coach Anatolii Piddubnyi mean to you? Do you feel his absence as you gear up for Rio?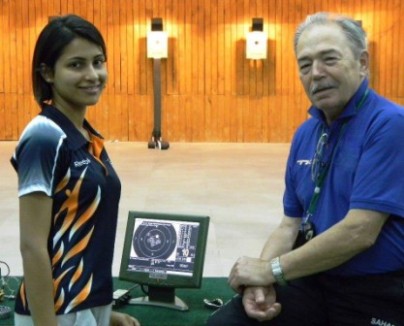 Ronak Pandit (my husband) was the one who found Anatolii and got him to India as his personal coach. I was introduced to him later. In fact, as a beginner I was fortunate and it was a coincidence that while randomly surfing the net for some articles on shooting, I happened to find his article and it made lot of sense to me. I started training that way so actually I was training by his technique long before I met him. He is the one who is the reason for our success today. He taught us the true meaning of a good shot and what a shooter should try to achieve in every shot. He made shooting very easy for us and always believed in our abilities. He taught and prepared us to be independent shooters so as such my performance doesn't depend on any body's presence unless I directly need them for training and preparation like I need Ronak. But it was also his dream to put me on the Olympic podium so I would really want him to be with me when that happens and I will definitely miss him.
Who is coaching you now? Who is taking care of your fitness and mental training?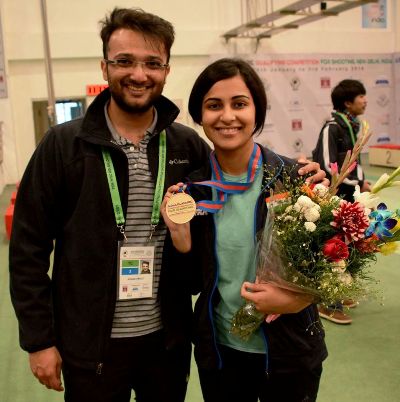 Ronak trains me today and has been training me since 2011. Infact for London 2012 I was working solely with Ronak. Anatolii was great for technical preparation but Ronak aces in competition preparation. Ronak has been with me for every training session and competition since 2012. Anatolii was here for a few months in 2012 but he was hired by NRAI and SAI so he also had Rahi and Annuraj to focus on. So I trained separately with Ronak. Then we worked together for few months in 2013 and then in 2014 but it was always Anatolii and Ronak together with me. Since mid 2014 I have been working solely with Ronak again and we are doing well as a team. For fitness I have worked with Jonathan Marc Gillam from Scotland. He is a good friend and is always there for us. But on day to day basis the fitness team of Olympic Gold Quest is great and Dr. Nikhil Latey supervises my fitness requirements. Shloka is doing a great job as my physiotherapist and Vipul Shetty from Mumbai is my personal trainer. Both are attached to OGQ. Dr. Pierre has been my mental trainer since 2012 and we continue to work together for Rio as well.
You had faced problems in government funding before the London Olympics in 2012. Have things changed this time? Are you getting enough funds in time for your Olympic preparation?
Yes a lot of my morale was broken by the funding issue in 2012. But now Ronak takes care of funding matters. I get what I need, where he gets it is his problem. This keeps me focused on my job. The Mittal Champion Trust took care of my training in 2012 and without them I wouldn't be able to perform the way I did. Manisha from MCT supported me a lot. Probably then the government didn't think I was good enough but I wish their attitude was one of supporting it's Olympic bound athlete. However things are lot different this time. The Top Scheme is a great initiative, it has its own challenges but it's intentions are good. In 2015 the disbursement of funds was very slow but now I have been given funds for training till end of May 2016 so I am very happy and thankful to the government. The Olympic Gold Quest has been supporting me since 2014 and am really lucky to have their backing, both emotionally and financially. They are always there for the athletes and it helps.
Are you happy with the response from private sponsors?
Yes I couldn't have asked for more. The Olympic Gold Quest are my private sponsors and they have always stood by me and supported me. The speed of their support is phenomenal. They trust their athletes and go all out in supporting them. When required and possible they fund first and ask questions later and it is this trust and speed that can make the difference between winning and losing at such high level of play.
You won three consecutive gold medals at the Asian competitions. How much confidence does that give you heading into the Olympics?
Medals don't matter at all to me. Performance matters. Medal is not in my hand, performance is. So in training we try to work on my performance such that even on a normal day an average performance should ensure a medal. I am happy I could hold my ground for these high pressure matches and it gives me an assurance that our training is going in the right direction. Ronak and Pierre take some unorthodox steps and it's great that they work. We take Each day as it comes and keep taking remedial steps. So we will continue working one day at a time and see how I am shaping up.
What is your schedule for the next few months, heading into the Olympics?
I will be focusing more on training and will shoot just the two World Cups in Rio and Munich. I skipped the World Cup Bangkok and may even skip the last one in Baku. We will be training 3 weeks then 1 week rest.
We have heard you are also a good artist. When and how did you start painting? Which is your latest painting?
I haven't painted in some time now as I was very busy with training and trying to win an Olympic Quota…I got interested in painting and sketching in school and try to do little bit in my free time which I rarely get these days. My last painting was of a beautiful quiet street in the town of Balearic island in Mallorca. But these days I am also studying interior decoration through correspondence from a foreign university and am enjoying it.
Comments