Rajesh Kumar and Sohail Malik were crowned Champion of Champions in rifle and pistol events respectively at the Christmas Shoot 2018 which was held at the Topgun Shooting Academy – Delhi on Sunday.
There were four top shooters from the men and women categories. Pratyush Aman Barik, Karan Jaiswal and Komal Shrivas were amongst the top contestants who were eliminated one by one in the rifle event. Similarly in the pistol event Gauri Dalal, Sapna Kumari and Tarun Kumar Dhaiya were the other three contestants.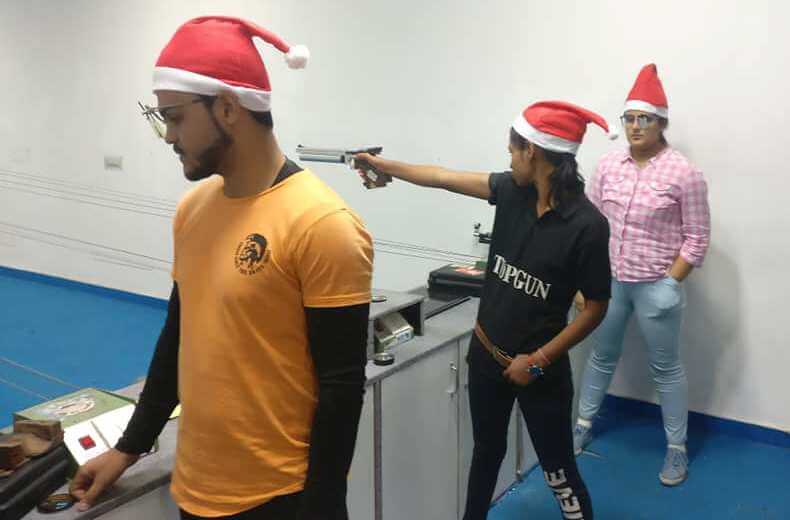 After the preliminary and elimination rounds, Sohail pipped Tarun in the pistol event while Rajesh outclassed Karan in the rifle event in the title round set to three shots.
The Christmas Shoot was organised by the Topgun Shooting Academy.
The Results:
10m Air Rifle: 1. Komal Shrivas; 2. Pratyush Aman Barik; 3. Rajesh Kumar
10m Air Rifle Junior: 1. Aahan Avi Arya; 2. Neil Jain; 3. Daiwik Kaushik
10m Air Pistol: Tarun Kumar Dahiya; 2. Sohail Malik; 3. Sapna Kumari
10m Air Pistol Junior: Dilpreet Singh; 2. Gauri Dalal; 3. Sharib Ali
Comments