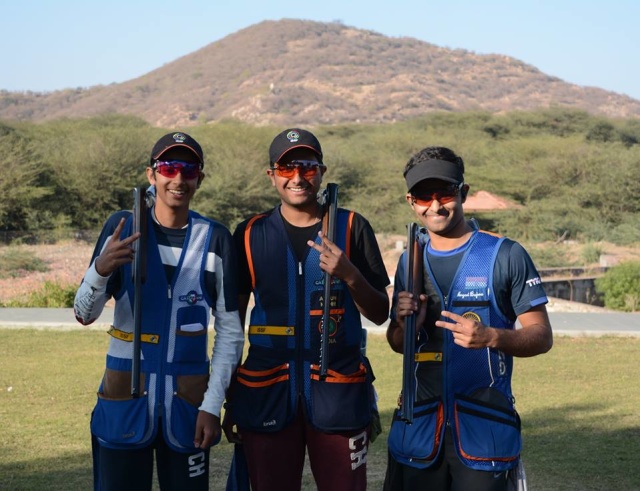 A twelfth standard school student, Anant Jeet Singh Naruka beat Olympic quota winner Mairaj Ahmad Khan to win the gold in men's skeet at the 59th National Shotgun Championship in Jaipur.
The 17-year-old Anant became the new national champion, as he beat another junior Angad Vir Singh Bajwa 14-13 in the gold contest.
Both Anant and Angad were tied with Man Singh on 14 in the semifinals, and only two could vie for the top two medals. Both the boys shot all the four birds in the shoot-off, while Man Singh who had topped the qualification with an impressive 123, missed one.
This is the first time Naruka participated in the senior men's category. He won the bronze medal in International Junior Cup 2015 as well as he also won the silver medal in Junior category of Asian Shotgun Championship 2014.
Anant Jeet had won the junior bronze in the International Junior Cup this season, apart from the junior silver in the Asian shotgun championship last year.
Mairaj Khan had shot 122 in qualification but could not qualify for a medal fight as he lost the shoot-off to Gurjoat Singh 5-6 after the two tied on 13.
Interestingly, Anant Jeet lost the junior men's gold to Arjun Mann, later in the evening while 20-year-old Angad Vir Singh Bajwa won the junior bronze.
In the veterans event, Paramjit Singh Sodhi, India's most popular shotgun coach for many shotgun stars, won the gold as he beat former national champion Rahoul Rai 12-10. Harinder Singh Sandhu beat Rajpal Singh Kochhar for the bronze.
The Results:
Men's Skeet: 1. Anant Jeet Singh Natuka 14 (14)4 (116); 2. Angad Vir Singh Bajwa 13 (14)4 (117); 3. Man Singh 14 (14)3 (123); 4. Gurjoat singh 13 (13)6 (116); 5. Mairaj Ahmad Khan 13(5) 122; 6. Mohd. Sheeraz Sheikh 12 (116).
Junior Men's Skeet: 1. Arjun Mann 12 (14) 111; 2. Anant Jeet Singh Naruka 10(14) 116; 3. Angad Vir Singh Bajwa 14 (12) 117; Mohd. Hamza Sheikh 12 (13) 113.
Veterans: 1. Paramjit Singh Sodhi 12 (10) 91; 2. Rahoul Rai 10 (14) 98; 3. Harinder Singh Sandhu 9 (7) 90; 4. Rajpal Singh Kochhar 8 (7) 95.
Comments