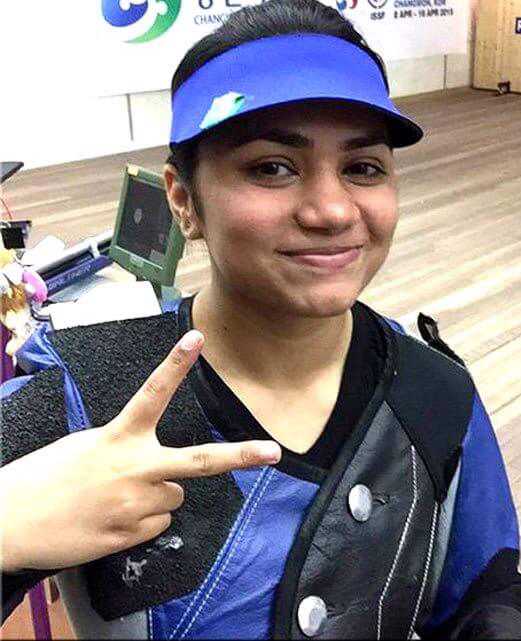 Ace shooter Apurvi Chandela shot her way to a second successive gold and emerged as the 'Shooter of the Tournament' in the Swedish Cup in Savsjo, Sweden.
The 23-year-old Chandela shot 208.9 in the finals to clinch the top prize in the Women's 10m Air Rifle (Match-3).
Chandela, who has secured a quota for the Rio Olympics, had won her first gold medal of the tournament late on Tuesday with a world record score of 211.2, to surpass the feat of Chinese Olympic gold medallist Yi Siling (211).
For her outstanding performance which included two gold along with a world record score, the rising shooter was awarded a Walther rifle, besides being crowned the 'Shooter of the Tournament' (men and women combined).
After giving a tough fight to Chandela, Norway's Malin Westerheim won the silver with a score of 208.4, while another shooter from her country Andrea Wick bagged the bronze after managing 186.1.
In qualifications, Chandela shot 416.1 and was on fourth, and fought like a champion to emerge victorious in what was a triple match.
After having missed the final by 0.7 point with a total of 414.1 in the first match on Monday, Apurvi went on to win her second gold on Wednesday as she beat Malin Westerheim of Norway by 0.5 point. She had qualified in the fourth place with a score of 416.1 before clinching the gold ahead of the qualification topper, who incidentally had won the gold in the first match.
A twelfth shot of 9.3 bridged the gap and made Apurvi trail briefly before she regained her lead with a consistent fare and ensured the gold with a last shot of 10.7.
On the first day of the competition in which Chandela finished 10th, she had missed the train, she waited unsuccessfully for a bus when the temperature plummeted to minus-10 degree celsius, before reaching the venue through a road covered in snow.
The result in Sweden marked a positive start for Chandela ahead of the multi-sport extravaganza in Rio later this year.
Chandela who is currently ranked 7 in the world had ended 2015 with a gold in at the 59th National Shooting Championship in New Delhi last month. Her tally at the Nationals was 207.8 in the final, and 417.0 in the qualification.
Chandela had won an Olympic quota place for India after winning a bronze with a score of 418.4 (185.6)in the ISSF World Cup in Changwon, Korea in April last year.
The Results:
Women's 10m Air Rifle:
Match-1: 1. Malin Westerheim (Nor) 207.6 (414.8); 2. Sagen Maddalena (US) 207.4 (415.3); 3. Stine Nielsen (Den) 186.1 (416.3); 10. Apurvi Chandela 414.1.
Match-2: 1. Apurvi Chandela 211.2 (418.3); 2. Astrid Steffensen (Den) 207.6 (413.7); 3. Stine Nielsen (Den) 185.0 (414.7).
Match-3:1. Apurvi Chandela 208.9 (416.1); 2. Malin Westerheim (Nor) 208.4 (419.9); 3. Andrea Wick (Nor) 186.1 (414.2).
Comments