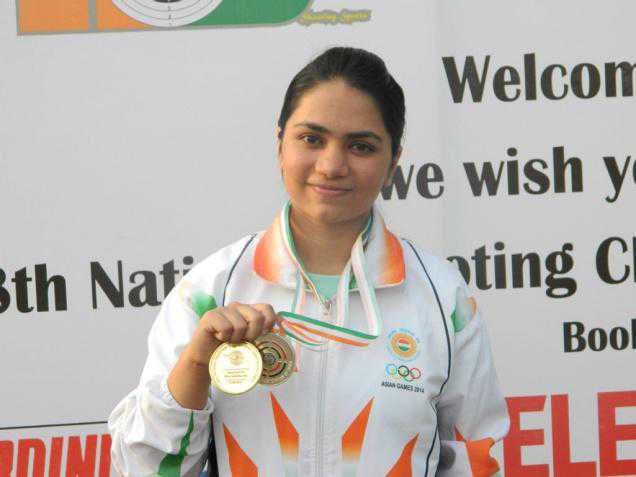 Commonwealth Games Gold medallist Apurvi Chandela did an encore in the Women's 10M Air Rifle event on the concluding day of the 58th National Shooting Championships at the city's Balewadi Shooting Range.
Having qualified for the eight-woman Final in pole position with a score of 1168, Apurvi comfortably won Gold over second placed Lajja Gauswami of Gujarat, finishing with a final round score of 207.2.
Lajja could only manage 205.1 while Hema K.C. of Rajasthan won the Bronze with an effort of 184.4. Army marksman Gurpreet Singh also rounded off a successful tournament when he bagged his second Gold Medal of the Championships after winning the 25M Centre Fire Pistol event with a final round score of 586.
Gurpreet had earlier won the Team Gold in the 25M Rapid Fire Pistol event. Colleague Pemba Tamang won the Silver shooting a total of 584 while veteran Samaresh Jung of the CISF came in third with 583.
In the Men's 50M Rifle 3 Positions event, Satyendra Singh of the Army won the Gold with a final round score of 454, while Sanjeev Rajput of Haryana won Silver shooting 445.8. Imran Hasan Khan, also of the Army marksmanship unit, won the Bronze finishing with a score of 435.4.
Sanjeev Rajput is Champion of Champions in Rifle
In other individual recognitions Sanjeev Rajput was crowned Champion of Champions Rifle and was presented with a cash prize of Rs 50,000 for his efforts by the National Rifle Association of India (NRAI). Satyendra Singh was the runner up and he was presented with a cash prize of Rs 10,000 by the Maharashtra Rifle Association.
In the team events, Pooja Ghatkar, Anjali Bhagwat and Tejaswini Sawant of Maharashtra, combined for the Gold with an overall score of 1240.2 in the Women's 10M Air Rifle. Rajasthan bagged the Silver while Railways won Bronze.
In the Men's 25M Centre Fire Pistol event, the Navy team comprising of Rajat Kumar Yadav, Omkar Singh and Yogesh Singh won Gold with a score of 1704.0. The Silver was won by the Army Marksmanship Unit while BSF came in third. In the Men's 50M Rifle 3 Positions event, the Gold went to the team from the Army Marksmanship Unit comprising of Chain Singh, Surendra Singh Rathod and Kapil Rana who shot a total of 3474.0 in the Finals. The Air Force team came second while the team from the Navy won the Bronze. indianshooting.com
Comments