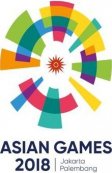 Teen sensation Anish Bhanwala finished without a medal in the men's 25m rapid fire pistol at the 2018 Asian Games in Palembang, Indonesia.
15-year-old Anish, who had won the gold the Commonwealth Games in Gold Coast earlier this year, could not qualify for the final, finishing 9th with a score of 576/600.
Anish shot 293/300 in stage 1 of the qualification held on Friday but he could not repeat his fine performance in stage 2 on Saturday, missing the final by three points.
Another Indian in the fray, Shivam Shukla, registered a washout and ended 11th with 569.
China's Yao Zhaonan won the gold with a Games record of 34 while another Chinese Lin Junmin won the silver with 33. Korea's Kim Junhong took the bronze with 29.
"I was under pressure yesterday but not today. I just shot badly. It can happen sometimes. I am disappointed but need to move on," said, Anish looking ahead with the ISSF World Championships beginning in Changwon, Korea on August 31.
"There were expectations but like I said, in shooting it is all about how you perform on the day. I could not do it today and I will try to do better at the Worlds," added Anish, who took the failure sportingly.
India has so far won nine medals in shooting at the Games.
The Results:
Men's 25m Rapid Fire Pistol: 1. Yao Zhaonan (China) 34 GR (585), 2. Lin Junmin (China) 33 (588); 3. Junhong Kim (Korea) 29 (589); 9. Anish Bhanwala (India) 576; 11. Shivam Shukla (India) 569.
Comments