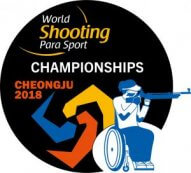 Avani Lekhara shot 631.7 to set a qualification junior world record in 10m Air Rifle Prone Mixed (R3) but missed the finals by 0.7 point at the World Shooting Para Sport Championships in Cheongju, Korea.
The 16-year-old, Avani, finished 10th while the other Indian in the event, Deepak, shot a score of 623.8 to finish 39th in a strong field of 47 shooters.
Slovakia's Veronika Vadovicova won the gold medal with a world record of 255.0, silver was won by Matt Skelhon of Great Britain with 254.3 while Korea's Jinho Park took the bronze with 232.9.
Last year, Avani had made an impressive international debut, claiming silver with a junior world record of 244.4 in women's 10m air rifle standing (R2) at the World Shooting Para Sport World Cup in UAE.
The Results:
10m Air Rifle Prone Mixed (R3): 1. Veronika Vadovicova (Slovakia) 255.0 (WR) 635.1; 2. Matt Skelhon (Great Britain) 254.3 (636.5); 3. Jinho Park (Korea) 232.9 (639.1); 10. Avani Lekhara (India) 631.7 (QWRJ); 39. Deepak (India) 623.8.
Comments