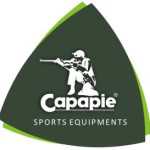 Indian shooters may have failed to make the most of the home advantage at the ISSF World Cup in Bhopal, but there was one Indian hand that continued to make a mark undeterred.
The Chinese juggernaut rolled over the competition with ease, and a critical component in the success of their athletes in Bhopal, especially the rifle shooters, was Capapie Sports.
Devised by former Indian shooter Nilesh Rane, Capapie was the chosen brand for the Chinese shooters in Bhopal.
In fact, after making inroads in over 85 countries, China has emerged as Capapie's biggest market, and the reason was on show in Bhopal. This edition of the World was another feather in the cap for Capapie, a brand that has been clocking milestones at big-ticket events. A case in point is the 2021 Tokyo Olympics where eight shooters finished on the podium in Capapie gear.
All the five rifle shooters from China who struck gold were clad in Capapie gear. Junior world champion in Cairo, Du Linshu made his senior debut in Bhopal and won gold in the men's 50m rifle three positions.
Three-time World Championship medallist Huang Yuting, 16, won gold in women's 10m air rifle, and combined with Lihao Sheng for the 10m air rifle mixed team gold.
Tokyo Olympic silver medallist Lihao Sheng, 18, shot a world record of 635.4 to win gold in men's 10m air rifle while Lin Shu won silver.
Zhang Qiongyue, 19, won her first World Cup medal with gold in the women's 50m rifle three positions.
Over the years, Nilesh's motto has been, "Money cannot buy trust," and it's the Mumbai-based firm's uncompromising stand on quality that has won it customers in 85-plus nations.
Comments