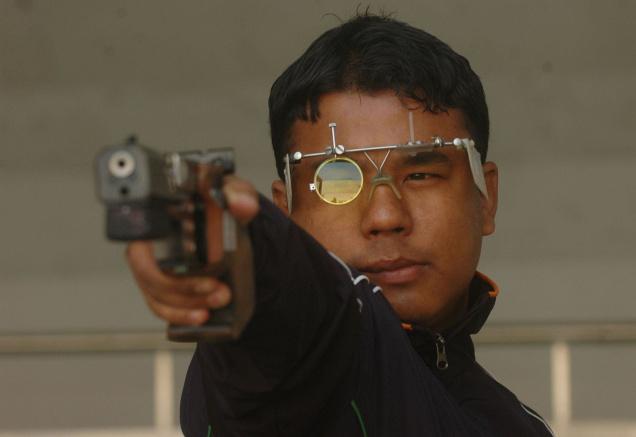 Indian shooters narrowly missed a podium finish in Men's 25m Center Fire Pistol at the 48th World Military Shooting Championship in Yeongcheon, South Korea.
Both Rajat Kumar Yadav and Pemba Tamang shot 582 each to finish 7th and 8th respectively, Rajat shot two more inner tens than Pemba to take the higher rank.
The third Indian in the fray, Yogesh Singh shot 581 to finish 18th.
India finished fourth behind Turkey in the team event, missing the medal by only a point.
Raj Chaudhary who was the lone Indian shooter in the Women's 50m Rifle Prone, finished 26th with a score of 615.2.
The Results:
Men's 25m Centre Fire Pistol: 1. Yusuf Dikec (TUR) 590, 2. Alexey Klimov (RUS) 585, 3. Jin Yongde (CHN) 583. 7. Rajat Kumar Yadav 582 (20x), 8. Pemba Tamang 582 (18x), 18. Yogesh Singh 581. Team: 1. Brazil 1744, 2. Austria 1733 (60x), 3. Turkey 1733 (54x), 4. India 1732.
Women's 50m Rifle Prone: 1. Mariia Feklistova (RUS) 625.1, 2. Alena Nizkoshapskaia (RUS) 624.8, 3. Sunanta Majchacheep (THA) 623.9, 26. Raj Chaudhary 615.2.
Comments