Ace pistol shooter Jitu Rai failed to impress as he finished 32nd in the Men's 50m Pistol at the ISSF World Cup in Munich on Saturday.
The Army shooter shot a qualification score of 551 (91,92,92,93,92,91) and missed the finals by seven points.
This is the lowest ever qualification score shot by Jitu in this event among the 15 World Cups he has participated in so far.
There was more disappointment in store for India as Olympian Prakash Nanjappa and Amanpreet Singh finished 39th and 60th respectively.
Prakash shot 549 (95,89,92,94,89,90) while Amanpreet who had won a silver behind Jitu at the World Cup in New Delhi could only manage a score of 537 (90,91,87,90,85,94).
However the shooters in the MQS (Minimum Qualifying Score) category did very well. Om Prakash Mitharval shot 559 while Arun shot 557.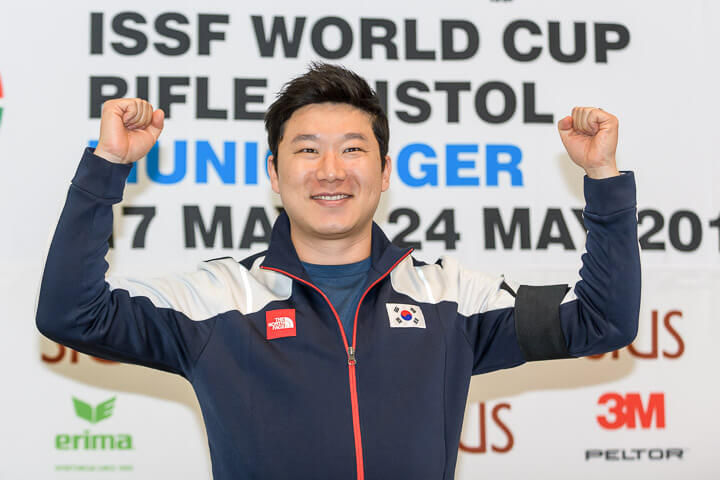 World's best pistol shooter Jin Jongoh shot his 16th World Cup gold and also set a new world record. The silver was won by Portugal's Joao Costa while Dimitrije Grgic of Serbia took the bronze.
The 37-year-old, three-time Olympic champion in the event shot 230.5 in the finals to better Jitu's world record of 230.1 set in the year's first World Cup stage at New Delhi.
Portugal 53-year old Joao Costa won the silver while Dimitrije Grgic of serbia won the bronze.
India's challenge in the Women's 25m Pistol also ended in the qualifying rounds when the trio of Muskan, Rahi Sarnobat and Surabhi Pathak finished with identical scores of 572 to be placed 41st, 43rd and 46th respectively.
Reigning world champion in the event, Zhang Jingjing of China nailed her fifth ISSF World Cup gold medal. Bulgaria Antoaneta Boneva won the silver while Olympic Champion Anna Korakaki of Greece took the bronze.
The Results:
Men's 50m Pistol: 1. Jin Jongoh (Kor) 230.5 WR (561); 2. Joao Costa (Por) 228.3 (562); 3. Dimitrije Grgic (Srb) 209.0 (564); 32. Jitu Rai 551; 39. Prakash Nanjappa 549; 60. Amanpreet Singh 537. MQS: Om Prakash Mitharval 559; Arun 557.
Women's 25m Pistol: 1. Zhang Jinging (Chn) 36 (585); 2. Antoaneta Boneva (Bul) 34 (585); 3. Anna Korakaki (Gre) 26 (587); 41. Muskan 572; 43. Rahi Sarnobat 572; 46. Surabhi Pathak 572. MQS: Annu Raj Singh 568; Chinki Yadav 559.
Comments