India's top pistol shooter Jitu Rai narrowly missed the finals in the Men's 10m Air Pistol at the ISSF World Cup in Munich.
Jitu shot 581 (95,98,97,98,97,96) in the qualification and missed the finals by a point. The Army shooter who had won a bronze in the event at the World Cup in New Delhi was in the hunt till the last four shots, but two 9s in the 57th and 58th shots proved crucial in the end.
Turkey's Tugrul Ozer was the 8th shooter to qualify with a score of 582 but with significantly lesser number of inner 10s than Jitu.
Olympian Prakash Nanjappa shot 576 (96,96,95,99,98,92) to finish 34th while promising youngster Anmol Jain finished 36th (96,98,95,95,97,95) in a field of 112 shooters.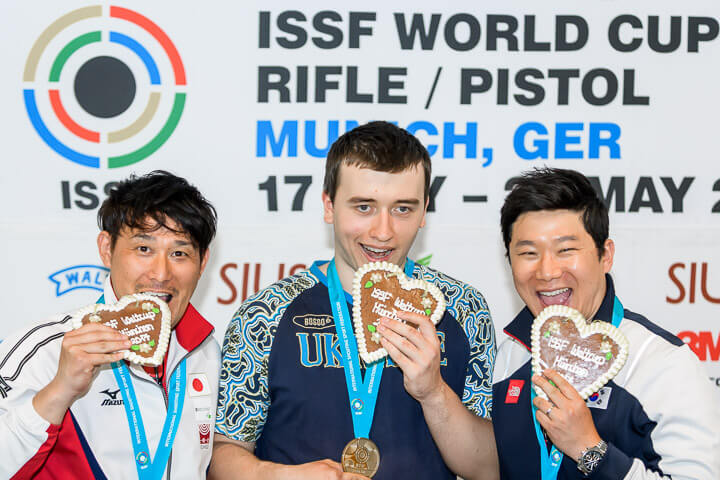 The 19-year-old Junior World Champion Pavlo Korostylov of Ukraine beat 2010 World Champion Tomoyuki Matsuda of Japan to win his first World Cup Gold.
The young shooter set a new junior world record of 240.9 points.
Japan's 41-year-old Matsuda Tomoyuki won the silver while four-time Olympic champion Jin Jongoh of Korea won the bronze.
Jongoh who had won gold and set a new world record in Men's 10m Air Pistol on Saturday had a shaky start in the finals but kept moving up the charts to claim his second medal at this World Cup.
The Results:
Men's 10m Air Pistol: 1. Pavlo Korostylov (Ukr) 240.9 JWR (585); 2. Tomoyuki Matsuda (Jpn) 238.7 (588); 3. Jin Jongoh (Kor) 218.4 (585). 10. Jitu Rai 581; 36. Prakash Nanjappa 576; 36. Anmol Jain 576.
Comments