Zoravar Singh Sandhu narrowly missed the Men's Trap finals at the ISSF World Cup in Acapulco, Mexico, on Tuesday.
The 39-year-old Zoravar, who was a finalist at the recently held World Cup in New Delhi shot an impressive qualification score of 121 (23,25,23,25,25) but still fell short by one target, to make the cut for the finals. The Delhi based shooter settled for the 8th position.
A score of 122 would have tied Zoravar with four others and would have given him a chance in the shoot-off for the last three slots in the finals.
Interestingly at the Delhi World Cup, Zoravar had shot 118 (three points lesser) but had qualified for the finals with the fourth highest qualification score, eventually missing the bronze medal narrowly.
Olympian Kynan Chenai who had shot 73 out of 75 on the first day of the competition, dropped three more targets today to finish 16th with a score of 120 (24,25,24,23,24).
The third Indian in the fray, Birendeep Sodhi shot 112 (23,25,22,20,22) to finish 53rd in a field of 61 shooters.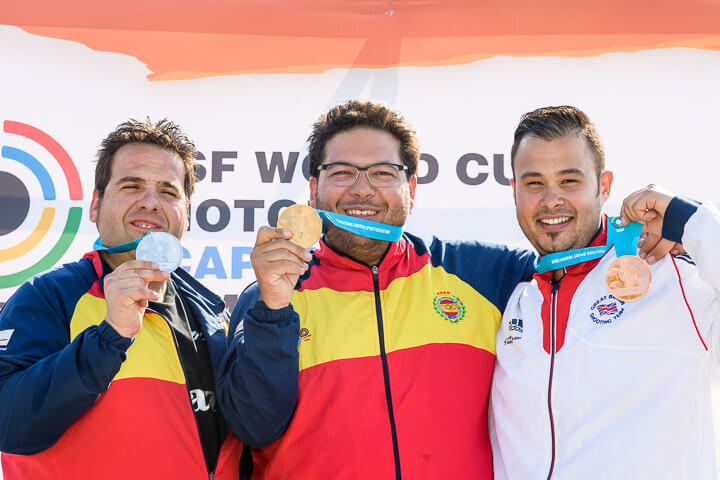 World No. 5 Alberto Fernandez of Spain claimed his fifth World Cup gold medal with a score of 45. The 33-year-old, 2010 World Champion who had won bronze in the Delhi World Cup, bettered his performance by beating countryman Antonio Bailon by three points. Aaron Heading of Great Britain took the bronze.
India did not field any shooters for Women's Trap in which Ashley Carroll of the US beat Natalie Rooney of New Zealand 1-0 in the shoot-off after being tied on 42 in the final. In fact, Carroll pipped five others in the shoot-off for the last spot in the final after being tied on the qualification score of 70.
The Results:
Men's Trap: 1. Alberto Fernandez (ESP) 45 (123) 4; 2. Antonio Bailon 42 (124); 3. Aaron Heading 32 (122) 4; 8. Zoravar Singh Sandhu 121; 16. Kynan Chenai 120; 53. Birendeep Sodhi 112.
Women's Trap: 1. Ashley Carroll (US) 42 (1) 70 (4); 2. Natalie Rooney (NZL) 42 (0) 71; 3. Alessandra Perilli (SMR) 30 (73).
Comments