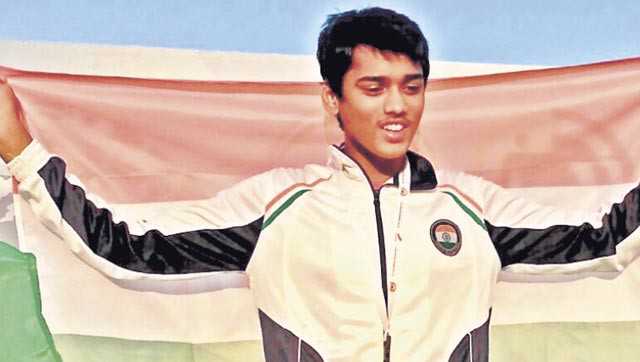 Manavaditya Rathore poses with his Gold medal
Manavaditya Rathore, son of Olympic silver medallist Rajyavardhan Rathore, today clinched the gold medal in junior men's trap at the 4th Asian Shotgun Championship in Al Ain (UAE).
This was India's third gold in the continental tournament. Rathore shot 114 out of 125 to win the junior trap event in a shoot-off.
The 15-year-old has been making steady progress over the years. Nicknamed 'Milo', he won the junior trap shooting title at the National Championships last year.
This is by far his best international performance in a short career, bettering his third-place finish at the Asian Shooting Championships in Almaty last year.
Commenting on Manavaditya's performance, Raninder Singh, President, NRAI said, "I would like to congratulate Manavaditya on winning the Gold today. This is India's third gold in the championship and this showcases India's strength in the world of shooting and how our youngsters like Manavaditya are the rightful stars of the future that India is going to bank on for years.
Other members of the junior trap squad Sharan Susheel and Kismat Chopra shot 113 and 105 respectively. In the senior trap event for men, Kynan Chenai finished 5th in the finals, after having shot an impressive 120 in qualification.
The senior men's trap team finished fourth overall with other members of the team namely Manav and Prithvi Raj Tondaiman shooting 115 and 114 respectively to add to Kynan's tally. indianshooting.com
Comments