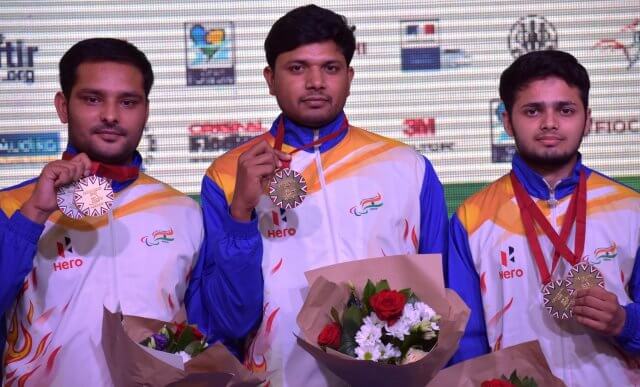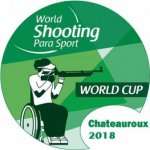 Manish Narwal and Deepender Singh claimed the gold and silver medals respectively to ensure a one-two finish for India in the men's 10m air pistol SH1 at the World Shooting Para Sport World Cup in Chateauroux, France.
After qualifying for the final with a junior world record of 578/600, the 16-year-old Manish shot 235.9 to claim the title, 0.5 point ahead of Deepender.
Manish, who was at the 4th position after the 14th shot in the final, registered a near perfect 10.8 on the 16th shot to take the lead. Although Manish could only manage 9.0 and 8.5 on his last two attempts but it was still good enough for the gold.
The two shooters also won the quota places for the 2020 Tokyo Paralympics.
Singhraj Adhana finished 5th with 172.6 in 18 shots while the fourth Indian in the fray, Akash shot a qualification score of 548 to finish 22nd in afield of 43 shooters. Earlier in the qualification Deepender shot 569 while Singhraj 561.
Czech Republic's Tomas Pesek took the bronze with 215.9.
The trio of Manish, Deepender and Akash won the men's 10m air pistol SH1 team gold for India with a total score of 1695/1800. Turkey won the silver with 1681 while Poland took the bronze with 1663.
Manish won silver medals in the same event at the World Cup held at Bangkok in 2018 and 2017 while Deepender won gold in 2017.
The Results:
Men's 10m Air Pistol SH1: 1. Manish Narwal (India) 235.9 (578 QWRJ); 2. Deepender Singh 235.4 (569); 3. Tomas Pesek (Czech Republic) 215.9 (565); 5. Singhraj (India) 172.6 (561); 22nd Akash (India) 548.
Men's 10m Air Pistol SH1 Team: 1. India (1695); 2. Turkey (1681); 3. Poland (1663).
Comments