The new kid on the block who had ended the year 2016 with a bang, winning two gold and seven silver medals in the 60th National Shooting Championship in Pune.
Riding on her success at the Nationals, Mehuli Ghosh went on to impress one and all during the national trials in Pune.
The 16-year-old shooter from Kolkata topped in all three categories she took part – Youth, Junior and Senior.
Mehuli lives in a place named Baidyabati which is around 40 kilometers by road from Kolkata and trains at the Joydeep Karmakar Shooting Academy (JKSA) in Kolkata.
The young girl's dedication towards shooting can well be measured from the fact that she travels up and down for around four hours for her training every day along with her heavy shooting equipment.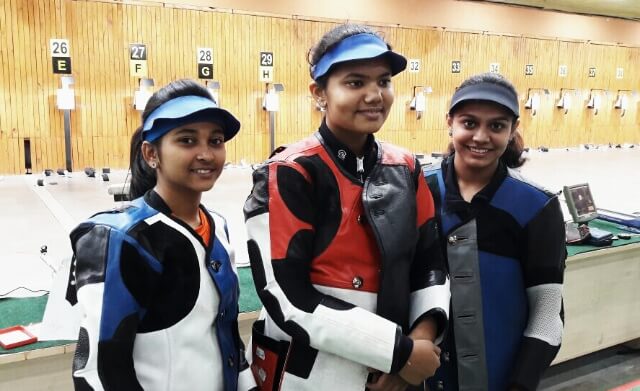 Mehuli's mentor and coach Olympian Joydeep Karmakar is full of praise for not only his very promising student but also for her parents. Mehuli is lucky to have such parents who despite not being very financially well off, have left no stone unturned for providing relentless support to their daughter," says Joydeep Karmakar.
Joydeep should also be appreciated on bringing out the champion in Mehuli in his first year as a mentor and coach. Infact seven more students apart from Mehuli from his academy made the cut for the selection trials in their first appearance at the National Championship.
Mehuli will most likely be named for the ISSF Junior World Championship to be held in June in Suhl, Germany. Infact she missed the team for the upcoming ISSF World Cup in New Delhi by a slender margin of 0.7 points in average score.
With her rapid progress in the sport, Mehuli has now started getting the much needed support in an expensive sport like shooting. Joydeep has removed the academy's training fee for her while Koeli Dalmiya another shooter of the same academy and the daughter-in-law of legendary cricket administrator late Jagmohan Dalmiya has set up a annual scholarship fund of Rs. 1 lakh for the rising star.
"Mehuli trains for 2-3 hours every day for four days a week. She is very calm and focussed but her killer instinct comes out if the situation demands" says, Joydeep.
Mehuli's killer instinct was visible at the Pune trials. After shooting a string of high 10s to take the lead in the finals of the Youth Women's 10m Air Rifle, Mehuli shot a poor seven due to a damaged pellet and as a result had slipped down five spots. She did not give up and with consecutive high inner 10s bounced back strongly to reclaim the top position.
With promising youngsters like Mehuli doing so well — under the guidance of Joydeep Karmakar who narrowly missed an Olympic medal after finishing 4th at the 2012 London Olympics — there is hope that one day they will make their mentor very proud by winning an Olympic medal.
Comments