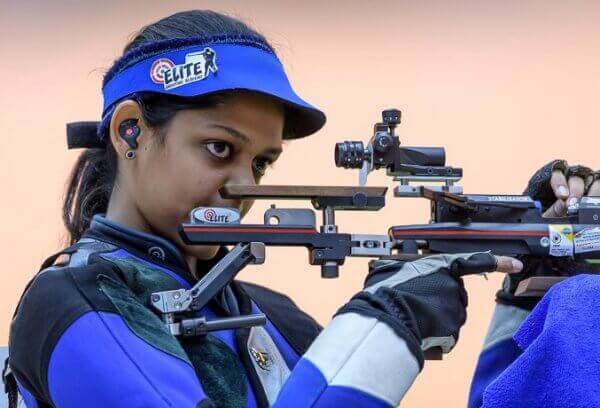 Meghana Sajjanar pipped Olympian Ayonika Paul by 0.2 points for the top place in the Women 10m Air Rifle (4th Trial) at the ongoing selection trials in New Delhi.
The Bengaluru girl, had narrowly missed out on a medal in the shoot-off at the ISSF World Cup held in June at Gabala, Azerbaijan.
Ayonika shot an impressive score of 419.7 to top the qualification but settled for the second position after shooting 249.9 in the finals. Although she shot a 10.5 on the last shot but a 9.7 on the penultimate shot spoilt her chances of claiming the top spot.
World Cup bronze medallist Pooja Ghatkar got the third place.
The topper of the 3rd trial on Monday, Apurvi Chandela finished 6th.
Sushil Ghalay tops prone event yet again
Army's Sushil Ghalay once again topped the trials ahead of Olympians Sanjeev Rajput and Gagan Narang in the Men's 50m Rifle Prone (4th Trial).
Ghalay shot a brilliant 627.3 to top the qualification and shot 249.8 to stamp his class in the event.
Sanjeev Rajput finished 2nd while Gagan Narang finished 3rd. Another Olympian Chain Singh finished 5th.
Samaresh Jung wins standard pistol
In the Men's 25m Standard Pistol (4th Trial), veteran Samaresh Jung of CISF clinched the top slot with 575, a point ahead of Olympian Gurpreet Singh while juniors Anhad Jawanda and Achal Pratap Singh Grewal placed 3rd and 4th respectively after being tied on 572.
The Results:
Women's 10m Air Rifle (4th Trial): 1. Meghana Sajjanar 250.1 (416.6); 2. Ayonika Paul 249.9 (419.7); 3. Pooja Ghatkar 229.6 (418.5).
Men's 50m Rifle Prone (4th Trial): 1. Sushil Ghalay 249.8 (627.3); 2. Sanjeev Rajput 249.2 (619.9); 3. Gagan Narang 227.7 (621.7).
Men's 25m Standard Pistol (4th Trial): 1. Samaresh Jung 575; 2. Gurpreet Singh 574; 3. Anhad Jawanda 572.
Comments