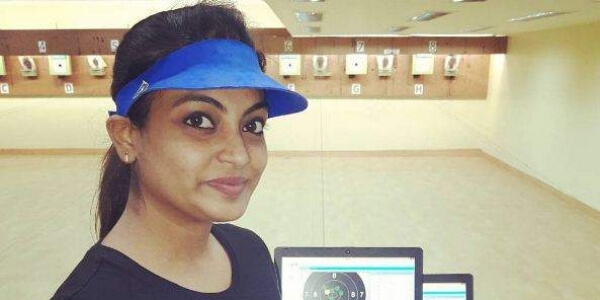 Ruchita Vinerkar of Railways won the women's 10m air pistol (T6) at the ongoing National Selection Trials being held at the Dr. Karni Singh Shooting Range in New Delhi.
The 26-year-old Ruchita, who shot a score of 570 to make it to the final on eighth place, beat the qualification topper Shri Nivetha (582) of Tamil Nadu by 0.8 point after registering 237.6.
In 2016, Ruchita had won a bronze in the same event at the Asian Championship in Tehran.
Shikha Narwal of Haryana took the third place and also won the youth event.
[gview file="https://www.indianshooting.com/wp-content/uploads/FINAL-AIR-PISTOL-WOMEN-T6.pdf"]
[gview file="https://www.indianshooting.com/wp-content/uploads/FINAL-AIR-PISTOL-JUNIOR-WOMEN-T6.pdf"]
[gview file="https://www.indianshooting.com/wp-content/uploads/QUALIFICATION-AIR-PISTOL-JUNIOR-WOMEN-T6.pdf"]
[gview file="https://www.indianshooting.com/wp-content/uploads/FINAL-AIR-PISTOL-YOUTH-WOMEN-T6.pdf"]
[gview file="https://www.indianshooting.com/wp-content/uploads/QUALIFICATION-AIR-PISTOL-YOUTH-WOMEN-T6.pdf"]
Comments