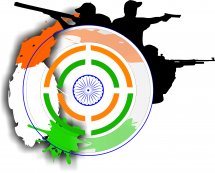 Pooja Ghatkar finished 9th after missing the finals by the thinnest possible margin of 0.1 point in the Women's 10m Air Rifle at the ISSF World Cup Final in New Delhi.
Pooja who had won a bronze in the season opening World Cup at the same venue, shot a score of 412.4 (101.5, 103.9, 102.2, 104.8) to finish 9th.
The 30-year-old Andrea Arsovic of Serbia shot 251.3 to defend her title which she had won in Bologna, Italy in 2016.
Andrea led the match since the very first series after registering 52.7 points. Later she shot an unbelievable series of 23 consecutive shots inside the 10th ring, and only missing it with the last one which was a 9.7.
"I was a bit nervous because I knew that I was close to the World Record. So that 9.7 was a bit disappointing. It feels great anyway, it's the second time in a row that I win this trophy and I couldn't be happier," said Andrea.
Laura-Georgeta Coman of Romania shot a score of 249.7 to win the silver while China's Peng Xinyi bagged the bronze after shooting a score of 228.5.
The 2016 Rio Olympic gold medallist Virginia Thrasher of USA had a technical problem in her rifle as her cylinder broke during the qualification. Although the current World No. 1 still managed to qualify for the finals but was the first to be eliminated after shooting a score of 122.4.
Unfortunate air cylinder break at World Cup Final in India. Had a strong recovery but rough final-8th place finish. Lots of learning overall pic.twitter.com/2cMDxqu8Pu

— Ginny Thrasher (@GinnyThrasher) October 26, 2017
The Results:
Women's 10m Air Rifle: 1. Andrea Arsovic (SER) 251.3 (415.4); 2. Laura-Georgeta Coman (ROU) 249.7 (414.1); 3. Xinyi Peng (CHN) 228.5 (415.1). 9. Pooja Ghatkar (IND) 412.4.
Comments