The first ISSF World Cup of the season was inaugurated by Union Sports Minister Vijay Goel at the Dr. Karni Singh Shooting Range, New Delhi, on Thursday.
The Sports Minister asked the Indian shooters to follow the footprints of the country's only individual Olympic gold medallist Abhinav Bindra and bring glory to the nation.
"I call upon everyone to follow Abhinav Bindra and make a lot of records," the Minister said, after declaring the World Cup open, in the presence of the ISSF president Olegario Vazquez Rana and the secretary general Franz Schreiber.
"I have great expectations from our shooters and look forward to their performances over the next week," Vijay Goel said.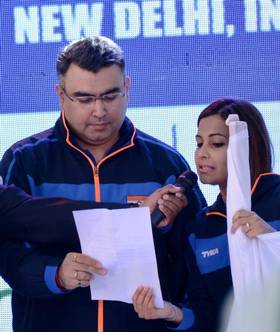 "I am happy to be here in the beautiful city again," said the ISSF president Olegario Vazquez Rana. Commending the organisers for the "excellent arrangements, hospitality and friendship", he said that Delhi would be the centre of attention for the shooting world for the next 10 days.
With the ISSF having conducted its general assembly and executive committee meetings here over the last two days the cream of the sports officials as well as shooters from 50 countries, enjoyed a crisp opening ceremony, after the president of the National Rifle Association of India (NRAI), Raninder Singh, welcomed the gathering.
Gagan Narang and Heena Sidhu took the oath of honour on behalf of the athletes, while Dhiren Bhatia and another delegate from abroad took the oath on behalf of the officials while the secretary general of NRAI, D.V. Seetharama Rao proposed a vote of thanks.
Comments