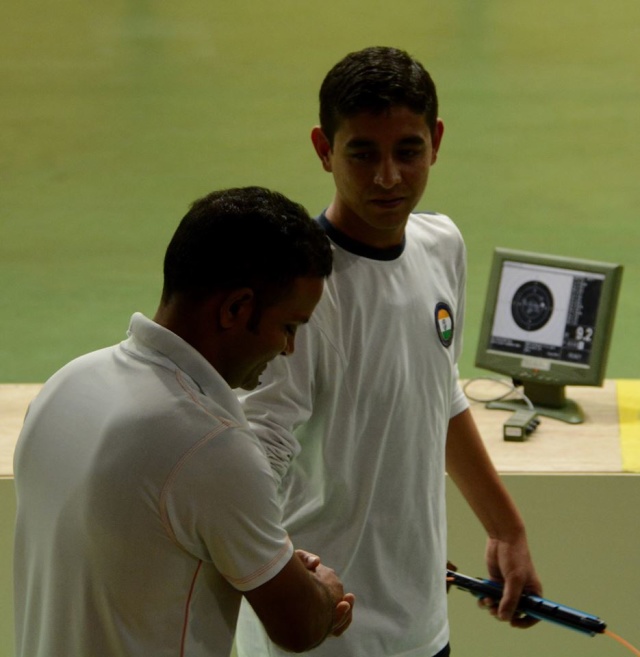 Shahzar Rizvi of the Indian Air Force (IAF) won the gold in Men's 10m Air Pistol at 59th National Shooting Championship in New Delhi, on Saturday.
As the electronic scoring system malfunctioned and failed midway multiple times through the finals, much to the disappointment of the loud cheering audience, the 21-year-old Shahzar, kept his cool to beat Olympic silver medallist Vijay Kumar by 1.4 points for the gold medal.
In the last two final shots, Shahzar, who had won the silver in the last edition in Pune, shot 10.0 and 9.2, as Vijay responded with 9.3 and 9.2.
Speaking to indianshooting.com, Rizvi said "I came here to win the gold, This was my aim for the Nationals. I even wrote this in my shooting diary".
Sib Kumar Ghosh of BSF who was also shooting very well throughout the finals, shot a poor 6.8 on the 17th shot and settled with the bronze medal.
The Results:
Men's 10m Air Pistol: 1. Shahzar Rizvi 199.6 (577); 2. Vijay Kumar 198.2 (577); 3. Sib Kumar Ghosh 177.2 (580).
Junior Men's 10m Air Pistol: 1. Achal Pratap Singh Grewal 577 (21x); 2. Pawan Yadav 577 (16x); 3. Arjun Das 575.
Youth Men's 10m Air Pistol: 1. Saurabh Choudhary 573; 2. Dhruv Pran Singh 572 (18x); 3. Shainki Nagar 572 (17x).
Comments