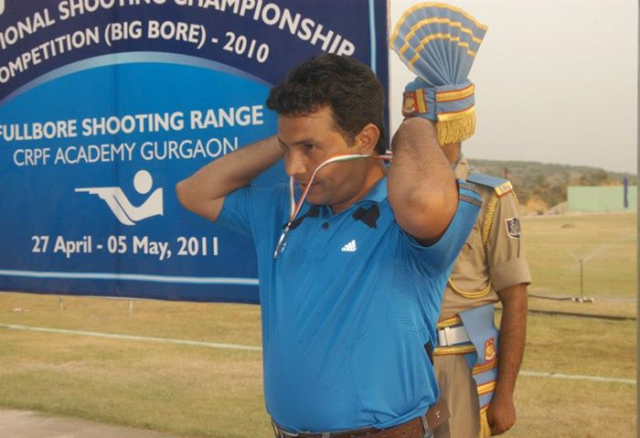 Rajeev Malik suffered a setback before the IPC Shooting World Cup at Fort Benning, USA as the marksmen lost both his rifles during his travel.
The 34-year-old handicapped shooter finds himself in a spot of bother as the airlines by which he traveled from Delhi to Atlanta has misplaced the two rifles, which were part of his travel baggage.
Malik found out that his both rifles were missing after reaching the Atlanta airport. The airlines told him that as soon as they locate his baggage they will have it delivered at his hotel. Since the airline could not locate any of his two rifles, the shooter had to compete with a borrowed rifle which costed him a chance to win an Paralympic quota.
Speaking to indianshooting.com, Rajeev Malik said, "I asked the airlines to call me as soon as my rifles were found but there was no call from them for the next three days. Giving up all hopes, I finally borrowed a rifle from my teammate Naresh Sharma and played my match. Later during my return journey, the airlines told me that the baggage containing rifles is in Amsterdam. On reaching Amsterdam I was told that the baggage is in Delhi. On reaching Delhi, I was told that the airlines has no information about the baggage".
"Loosing rifles at the airport means it is a security issue. Both the rifles are firearms and if it goes in wrong hands it can become very dangerous. It is very frustrating to see that the airlines is not taking the matter seriously and has still not been able to locate the rifles even after so many days" added Malik.
A police complaint has also been lodged with the Delhi Police by Malik against the airlines in question.
One of the two lost rifles belong to Delhi based shooter Prithipal Singh Bedi who had lend it to Malik for this competition.
It may be recalled that in 2006 another airline had misplaced Rajyavardhan Rathore's shotgun as the marksman was on his way back after winning a gold medal at the ISSF World Cup in Cairo. Later after a very high level of inquiry, Rathore got his gun back.
Comments