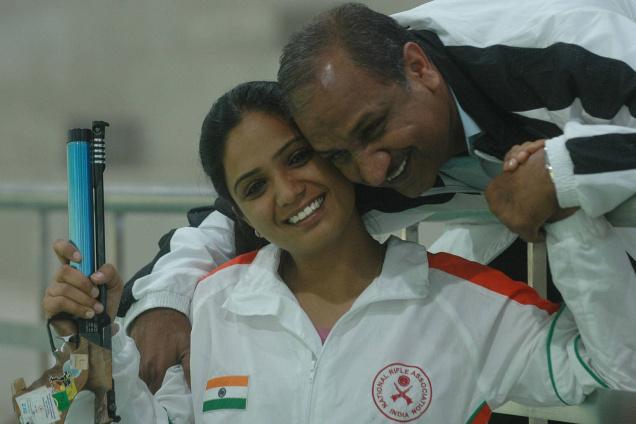 Shweta Singh of ONGC won the gold in Women's 10m Air Pistol by shrugging off a spirited challenge from Haryana's Yashaswani Singh Deswal to prevent Army from clean sweeping the top events on day seven of the 59th National Shooting Championship.
Malaika Goel of Punjab won the bronze in this event at the Dr. Karni Singh Shooting Range.
Meanwhile, Raj Chaudhary of Army won the Women's 50m Rifle Prone after she edged out 2014 Glasgow Commonwealth Games bronze medallist Lajja Gauswami by virtue of having one inner 10 more. Former World Champion Tejaswini Sawant took the bronze.
Shweta, who had won a silver in the 8th Asian Airgun Championship held at the same venue a couple of months back, continued her good form to first qualify for the finals in top spot with an excellent score of 386 (100, 97, 95, 94) and then after fluctuating between second and third till the 17th shot, finally took the lead after the 18th shot and held on to win in the final two shots.
Speaking to indianshooting.com, Shweta said, "I shot well in the qualification yesterday but I feel I could have shot even better if I had controlled the last series. I started with a perfect 100 but shot a 94 in the last series which was the lowest among the four series.
Shweta however looked unsettled in the finals and struggled to shoot high scoring shots. "I am not at all happy with the way I shot in the finals but I was still lucky enough to win the gold as the other finalists were even more off the target" added Shweta.
Yashaswani who is just coming up the junior ranks will get another opportunity to be crowned National Champion, but will not mind the day as she bagged four golds on the day across the Women's 10m Pistol junior and civilian categories and also in both the team events.
Raj Chaudhary in the 50m Women's Rifle Prone also came through a tough field, which apart from eventual silver and bronze medallists Lajja and Tejaswini, also had the likes of Elizabeth Susan Koshy and veteran Kuheli Gangulee.
Raj shot a final score of 620.2 which was the same as Lajja's but she had 35 inner 10s while Lajja could manage only 34. Tejaswini was third with a score of 617.5.
Comments