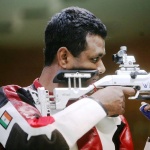 I have been following Paralympian Naresh Sharma's progress ever since I started frequenting the Dr. Karni Singh Shooting Range in the mid-90s. He was one shooter who, despite his extreme disability, never missed a training session, never complained about lack of attention and never held any grudges against anyone.
His beguiling smile and affection towards everyone was a bigger virtue than his shooting. So, when rumours swirled that he had been barred from entering the range he had been frequenting for more than two decades, I was caught by surprise.
What had he done to deserve this, was my instantaneous reaction. Perhaps I had heard it wrong, or maybe there was a misunderstanding, I thought. But then, when I heard that he had allegedly "misbehaved" with a trainee at the shooting range, there was no way I was going to believe it.
Here was an athlete with 80 or 90 per cent disability fighting on several fronts and still trying to compete with able-bodied shooters – beating them hands down on several occasions. How could someone, whose career – which includes five Paralympic Games and hundreds of medals at the national and international medals – be so naïve as to "misbehave" with a female shooter.
Barring a couple of stray incidents of misbehavior I have heard about in my more than two decades of association with the sport, I know shooting is one sport where mutual respect and admiration for fellow shooters, coaches and officials, among others is of the highest level.
From what I know is that an inquiry has been instituted against Naresh by his employers, the Sports Authority of India. While in due course, the probe will unearth the truth, I will continue to hold Naresh in high esteem, a guy who has the courage to call a spade a spade and one who is always willing to help everyone despite his handicap.
With crutches dangling on both sides of his customized three-wheeler scooty, I still recollect him driving at breakneck speed arriving at the Karni Singh Ranges full of enthusiasm, laboriously parking the vehicle, fastening the crutches just below his elbows and sluggishly dragging himself into the shooting range.
Lying prostrate for hours on the floor taking aim at a target 50 metres away in extreme summers and winters, he never took pity on himself. For him, the polio-stricken body was not a liability, but an asset. And he was always willing to listen to his coaches and trainers to become the best in the business.
That attitude made him the most successful para shooter in the country and earned him the highest sporting honour, the Arjuna Award.
With such a strong character, it is difficult to comprehend Naresh doing such a thing. Like a fighter all his life, Naresh decided he was not going to take it lying down. He was willing to punch above his weight. Naresh shot off letters to all those who mattered, putting up his case without fear or trepidation.
Naresh told me that being the Sports Authority of India (SAI) coach at the range, his job was to train his wards and maintain discipline at the 50m range and that is what he was doing. "A trainee shooter brought along a friend close to the firing point and I asked the visitor to sit in the spectator's area. The trainee shooter then filed a complaint of misbehavior against me and now I have been barred from entering the range," says Naresh.
"But truth will come out very soon and I am confident it will be in my favour," he says resolutely.
The writer is a former India shooter.
Comments