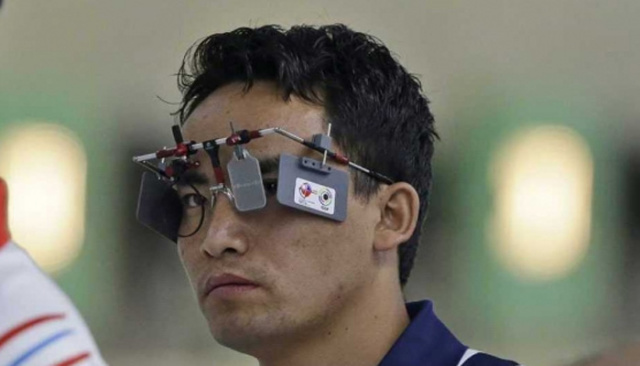 Unfancied Jai Singh Rathore beat ace shooter and Olympic quota winner Jitu Rai in Men's 50m Pistol to grab the gold in a nerve-wracking final at the 59th National Shooting Championship being held at Dr Karni Singh Shooting Range, New Delhi.
Jitu had made it to the eight-man final on top of the qualifying board with a score of 559 while Jai had logged 546 to qualify in sixth position, but turned the tables on his more famous team-mate in the finals.
The gold looked to be slipping away when Jai shot 7.7 to be tied with Jitu who shot 10.2. But on the last two shots, Jitu faltered with shots of 8.5 and 8.6 whereas Jai shot 10.4 and 8.2 to seal the gold with a margin of 1.5 points.
Prakash Nanjappa of Karnataka, who, like Jitu, has secured a Rio Olympics quota, finished third.
Jitu, Jai and Om Prakash also teamed up to ensure that the army team bagged the team gold in the event.
In the Women's 25m Pistol, Olympian and World Cup gold medallist Rahi Sarnobat of Maharashtra won the gold ahead of Anisa Sayyed of Haryana while Annu Raj Singh won the bronze.
The other highlight of the day was the multiple gold medals won by promising youngster Achal Pratap Singh Grewal of Punjab who won Gold in both the junior and civilian categories of the 10m Air Pistol event.
The Results:
Men's 50m Pistol: 1. Jai Singh 189.5 (546), 2. Jitu Rai 188.0 (559), 3. Prakash Nanjappa 168.9 (551).
Junior Men's 50m Pistol: 1. Deepak Malik 542, 2. Om Prakash 539, 3. Sumedh Kummar Devlalivala 538.
Women's 25m Pistol: 1. Rahi Sarnobat 7 (19) 574, 2. Anisa Sayyed 1 (14) 576, 3. Annu Raj Singh 7 (11) 573, 4. Pushpanjali Rana 3 (12) 570.
Juniors: 1. Shreya Gawande 570, 2. Gauri Sheoran 567 (16x), 3. Chinki Yadav 567 (14x).
Comments