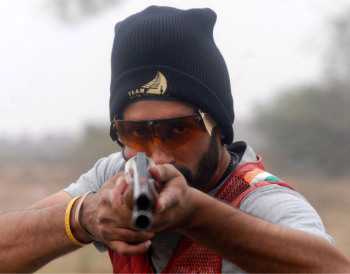 Zoravar Singh Sandhu pipped Birendeep Sodhi 1-0 in the shoot-off to clinch the men's trap gold in the 58th National shotgun championship at the New Moti Bagh Gun Club range on Wednesday.
Zoravar was tied on 13 with Birendeep in the gold medal match.
In the shoot-off, Birendeep missed the first bird. Zoravar, who had won the bronze medal in the Changwon World Cup in 2007, had qualified with a score of 117, following a series of 24, 25, 23, 23 and 22.
He had topped the semifinals with a score of 14 to be challenged by Birendeep.
Manavjit Singh Sandhu shot 12 in the semifinals after having topped the qualifiers with a score of 119.
He tied with Kynan Chenai at 13-13, but shot the fifth bird to clinch the bronze.
Mansher Singh and Prithviraj Tondaiman missed out on the medal round, as they were placed fifth and sixth in the semifinals.
In junior section, Lakshay of Haryana beat Aman Ali Elahi of Rajasthan in the shoot-off for the gold after the two had tied at 10-10.
Results: Men's Trap: 1. Zoravar Singh Sandhu 13(1) 14 (117); 2. Birendeep Sodhi 13(0) 13 (116); 3. Manavjit Singh Sandhu 13(5) 12 (119); 4. Kynan Chenai 13(4) 12 (114).
Juniors: 1. Lakshay 10(1) 12 (110); 2. Aman Ali Elahi 10(0) 11 (105); 3. Kismat Chopra 11 (11) 104; 4. Abhay Singh Rathore 9 (11) 109.
Comments