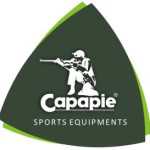 This time of the season, the launch of the Capapie Calendar to usher in the New Year is a much-awaited event amongst the shooting community.
Capapie Sports, the top choice of elite shooters worldwide as their rifle clothing brand, is the brainchild of former national shooter Nilesh Rane.
This year, Capapie chose the 66th National Shooting Championship in New Delhi as the setting to unveil its artistically-shot calendar on Thursday.
Those featured are world and Olympic medallists, and an Indian also finds a pride of place. Rudrankksh Patil, Olympic quota winner in men's 10m air rifle, leads the presentation as a world champion from Cairo 2022.
Like Rudrankksh, Tokyo Olympic bronze medallist in men's 50m rifle three positions, Milenko Sebic was present at the launch event. Among others to grace the occasion were NRAI president Kalikesh Singh Deo and Capapie founder Rane.
Sebic has cornered glory on the biggest of stages in his Capapie gear, and it was the Serbian turn to give back by being present at the launch.
Anna Janssen is another top name posing in her Capapie gear. The 22-year-old from Germany is a gold medallist from the 2022 Cairo World Championship.
Two other women find place in the coveted collection, and they are Poland Tokyo Olympian Aneta Stankiewicz and Armina Sadeghian, Iran Tokyo Olympian and silver medallist at the 2018 Changwon World Championship.
Lucas Kozeniesky needs no introduction. As a leading light of the USA shooting team, the 28-year-old from Colorado Springs won silver in 10m air rifle mixed team at the 2021 Tokyo Olympics.
Another prominent name to make the 2024 calendar is Switzerland Rio Olympian Jan Lochbihler. The 31-year-old is a gold medallist at the 2022 Cairo World Championship.
Comments