Aishwary Pratap Singh Tomar bagged India's 13th Olympic quota in shooting with a bronze medal in men's 50m rifle three positions at the 14th Asian Shooting Championship in Doha, Qatar.
The 18-year-old Aishwary qualified for the final with a score of 1168/1200 on the fourth place.
Out of the eight finalists, three had already booked their Olympic berths. That left Aishwary and four others, fighting for the three quotas on offer.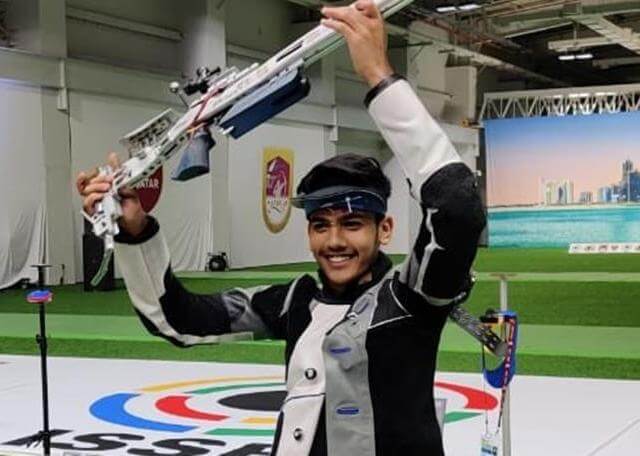 Aishwary maintained his fine form in the final to claim the quota with a podium finish.
The other Indians in the fray, Olympian Chain Singh (1155) finished 17th while Parul Kumar (1154) was 20th.
The gold was won by Kim Jonghyun (459.9) of Korea while China's Zhao Zhonghao (459.1) won the silver.
Aishwary is the second Indian, after veteran Sanjeev Rajput, to have got a quota in the event.
Hailing from an agricultural family, it was during a camp at the Madhya Pradesh Shooting Academy in 2015 when Aishwary was first spotted by coaches.
This is Aishwary's first stint at the senior level.
In July, Aishwary had shot down the junior world record on his way to winning gold in the same event, at the ISSF Junior World Cup in Suhl, Germany.
The trio of Aishwary, Chain and Parul won the team bronze with 3503. China (3520) won the gold while silver was won by Iran (3505).
[gview file="https://indianshooting.com/wp-content/uploads/F100000IA1011191245.1.FR3X40.0.001.pdf"]
[gview file="https://indianshooting.com/wp-content/uploads/Q100000IA1011190900.1.FR3X40.0.001.pdf"]
Comments