Anjum Moudgil won a silver medal and Apurvi Chandela finished fourth to secure two Olympic quota places in women's 10m air rifle at the 52nd ISSF World Championship in Changwon, Korea.
The 24-year-old Anjum became only the second Indian woman shooter to win a World Championship medal after Tejaswini Sawant's gold in 50m rifle prone in 2010.
Anjum shot a score of 248.4 to finish second on the podium behind Korea's 17-year-old Im Hana (251.1) and ahead of bronze medallist Jung Eunhea (228.0), who is also from Korea.
Anjum, who specialises in rifle three positions and has a qualification world record of 1180/1200, said some technical adjustments she had made had paid off.
Apurvi shot 207.0 to bag the second Olympic quota of the event after being eliminated on the 20th shot. The other two Olympic quota places in the event were sealed by the Koreans.
Earlier in the qualification, Anjum shot 628.7 while Apurvi 627.5 to finish fourth and sixth respectively. Teen sensation Mehuli Ghosh shot 622.8 to finish 48th.
The Indian trio of Anjum, Apurvi and Mehuli won the silver in the team event with a score of 1879.0, behind Korea which registered a world record 1886.2. The bronze was won by Germany with 1878.4.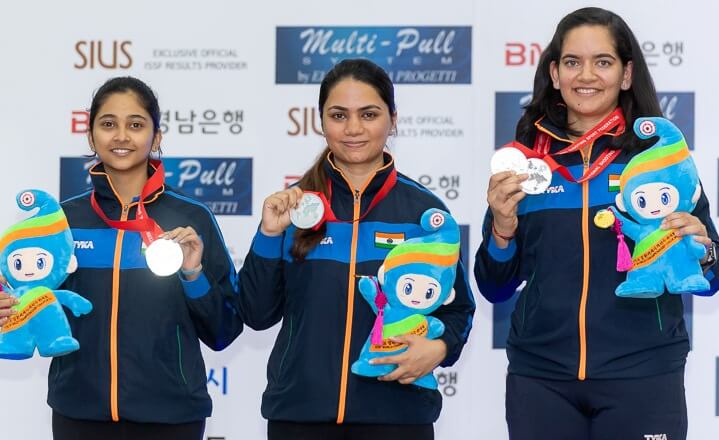 In men 10m air rifle, Deepak Kumar, the Asian Games silver medallist, made the final with the fourth best score of 630.1, but eventually ended up sixth, and narrowly missed the Olympic quota. Ravi Kumar shot 625.4 to finish 28th while Gagan Narang shot 622.9 to finish 42nd.
The gold was won by Russia's Sergey Kamenskiy with 248.4. Petar Gorsa of Croatia won the silver with 247.5 while compatriot Miran Maricic took the bronze with 227.3.
The Indian men's air rifle team of Deepak, Ravi and Gagan registered 1878.4 to finish fourth, missing the team bronze by the slightest possible margin of 0.1 point. The gold was won by China with a world record score of 1887.4. Russia won the silver with 1884.0 while Korea took the bronze 1878.5.
The Results:
Women's 10m Air Rifle: 1. Im Hana (Korea) 251.1 (630.9); 2. Anjum Moudgil (India) 248.4 (628.7); 3. Jung Eunhea (Korea) 228.0 (630.7); 4. Apurvi Chandela (India) 207.0 (627.5); 48. Mehuli Ghosh (India) 622.8.
Women's 10m Air Rifle Team: 1. Korea (1886.2 WR); 2. India (1879.0); 3. Germany (1878.4).
Men's 10m Air Rifle: 1. Sergey Kamenskiy (Russia) 248.4 (632.4); 2. Petar Gorsa (Croatia) 247.5 (628.0); 3. Miran Maricic (Croatia) 227.3 (628.1); 6. Deepak Kumar (India) 164.1 (630.1); 28. Ravi Kumar (India) 625.4; 42. Gagan Narang (India) 622.9.
Men's 10m Air Rifle Team: 1. China (1887.4 WR); 2. Russia (1884.0); 3. Korea (1878.5); 4. India (1878.4).
Congratulations to the women Indian Airrifle team , the quotas and ofcourse a massive congratulations to Anjum for her silver !

ÔÇö Abhinav Bindra OLY (@Abhinav_Bindra) September 3, 2018
Comments