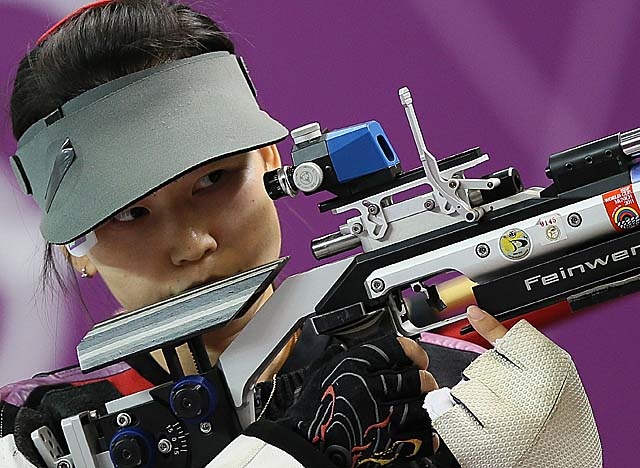 The 13th Asian Shooting Championship might have lost it's sheen as the International Olympic Committee (IOC) decided to revoke it's Olympic qualification status but the Chinese shooters seem to be in no mood to take things lightly even this time around.
Yi Siling and Du Li made it a one-two for China and along with their teammate Zhang Binbin also shot a World Record in the team event of the Women's 10m Air Rifle while another Chinese shooter Shi Mengyao shot a world record in the junior women's category on the opening day of the championship at Kuwait.
The 26-year-old current Olympic Champion, Yi Siling shot 208.2 to claim the gold while Du Li shot 207.4 for the silver, the bronze was won by Iran's Narjes Emamgholi with 185.5
India's Pooja Ghatkar finished fifth with a score of 143.9. Pooja had the third best qualification score of 417.9 (104.9,103.8,104.5,104.7). Ayonika Paul finished 15th with a score of 411.8 (103.6,103.6,101.7,102.9) while the third Indian in the event Susan Elizabeth Koshy shot 411.2 (102.5,100.6,103.5,104.6) to finish 18th in a strong field of 58 shooters.
China's Shi Mengyao shot a new final world record of 209.6 breaking the record of 207.9 set by Najmeh Khedmati at the 2014 Asian Games in Incheon. Khedmati finished fifth in today's final with a score of 143.8 behind India's Mampi Das who finished fourth with a score of 164.5.
The Indian junior women's team of Shriyanka Sadangi (412.8), Mampi Das (409.9) and Mandeep Popli (405.3) opened India's medal account by winning a team silver with a total score of 1228.0.
India won a gold in the youth women's team event. The trio of Prachi Gadkari, Gayatri Pawaskar and Aashi Rastogi finished with a total score of 1226.8 to claim the yellow metal. Prachi also won the individual bronze in the event, finishing the finals with a score of 181.3.
In the Junior Men's 50m Pistol, India's Sumedh Kumar shot 163.8 to claim the bronze medal. Sumedh had qualified for the finals along with another Indian Arjun Das who eventually finished 4th with a score of 145.6. The Indian duo also teamed up with Suraj Bhambani to grab the team silver medal in the event with a total score of 1613.
The shotgun shooters however disappointed today as none of the three Indians in the Men's Double Trap event could make it to the finals. Mohd Asab finished 7th, Ankur Mittal 8th while Ronjan Sodhi 11th.
The Results:
Women's 10m Air Rifle: 1. Yi Siling (CHN) 208.2 (419.1), 2. Du Li (CHN) 207.4 (420.0), 3. Narjes Emamgholi (IRN) 185.5 (416.0), 5. Pooja Ghatkar 143.9 (417.9), 15. Ayonika Paul 411.8, 18. Susan Elizabeth Koshy 411.2. Team: 1. China 1256.9 (WR). 2. Iran 1243.9, 3. Iran 1242.6, 4. India 1240.0
Jr. Women's: 1. Shi Mengyao (CHN) 209.6 (416.8), 2. Ho Xiu Yi (SIN) 206.2 (413.5), 3. Ai Iwaki (VIE) 184.5 (409.2), 4. Mampi Das 164.5 (409.9), 7. Shriyanka Sadangi 101.0 (412.8), 19. Mandeep Popli 405.3. MQS: Nina Chandel 404.8. Team: 1. Iran 1233.0, 2. India 1228.0., 3. Korea 1227.8
Youth Women's: 1. Malika Lagutenko (TJK) 204.9 (409.6), 2. Suyoung Chun (KOR) 204.1 (407.3), 3. Prachi Gadkari 181.3 (408.2), 6. Gayatri Pawaskar 119.3 (410.6), 7. Aashi Rastogi 100.2 (408.0). Team: 1. India 1226.8, 2. Korea 1219.8, 3. Bangladesh 1211.1.
Junior Men's 50m Pistol: 1. Zhang Bowen (CHN) 182.8 (546), Hadi Abdul Malek Abd (MAS) 181.3 (536), 3. Sumedh Kumar 163.8 (550), 4. Arjun Das 145.6 (535). MQS: Samarjit Singh 529. Team: 1. Korea 1620, 2. India 1613, 3. Thailand 1571.
Comments