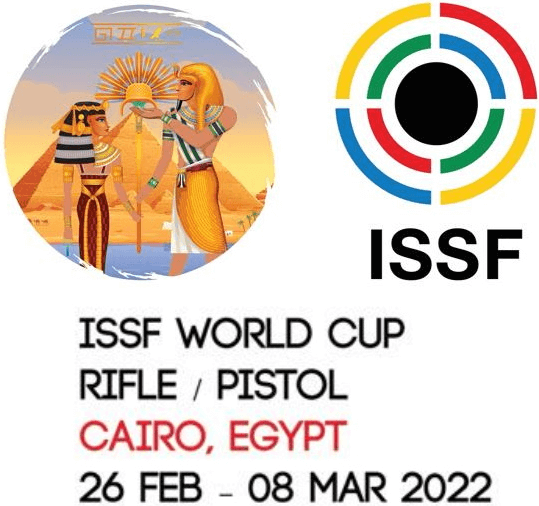 Indian trio of Esha Singh, Shri Nivetha Paramanantham and Ruchita Vinerkar won the gold in Women's 10m Air Pistol Team at the ongoing ISSF World Cup in Cairo, Egypt.
The Indian team beat Germany's Sandra Reitz, Carina Wimmer and Andrea Heckner 16-6 in the gold medal match for the country's third medal in the year's first World Cup.
This was also 17-year-old Esha's second medal of the tournament, having won a silver in the Women's 10m Air Pistol on Tuesday.
The Indian women were bang on target right from the very start as they topped the first qualification stage with 856. They followed it up with a 574 out of 600 in stage two, which saw them storm through to the gold medal match, yet again finishing top among the eight teams. The Germans followed them a full three points behind with 571, while Chinese Taipei and Singapore made it through to the bronze medal match, which was won by Chinese Taipei.
In the gold medal match, Esha set the tone with a near perfect 10.8 to help India take an early lead. They extended the lead to 6-0 soon as all three Indians shot 10 or above in the third series of single-shots. Germany came back to make it 2-6 to win a close fourth round, but the Indians kept the pressure on with consistent Shooting. From 8-4 they raced to 12-4 and then closed it out confidently at 16-6, as both Shri Nivetha and Ruchira Vinerkar struck decisive shots when it mattered most.
On a day which saw six finals across rifle and pistol events, the only other time India came close to a medal was when the trio of Saurabh Chaudhary, Gaurav Rana and Balakrishna Uchaganve finished fourth in the Men's 10m Air Pistol Team, going down to Italy's Torracchi Alessio, Monna Paolo and Tesconi Luca, 6-16 in the bronze medal match.
In-fact Saurabh, Gaurav and Balkrishna registered 581 in qualification stage two, the same score as the top two teams Germany and Turkey but lost a spot in the gold medal match due to lesser inner tens. Germany went on to win the gold 16-0 against Turkey.
In the 10m Air Pistol Mixed Team, Esha and Balkrishna of India could not make it beyond the qualification stage, shooting 567 to finish 19th.
In 10m Air Rifle Mixed Team, the Indian duo of Aayushi Gupta and Rudrankksh Patil made it through to the first semifinal, finishing third in qualification with a combined effort of 630.2 but later bowed out after a fourth place fningh in the semifinal with 22.5 points.
The Indian Men's 10m Air Rifle Team of Olympian Divyansh Singh Panwar, Rudrankksh Patil and Srinjoy Datta shot the second best 942.1 in stage one but failed to secure a place in the bronze medal contest by a mere 0.1 point as they registered 624.1 in stage two. Czech Republic's Ales Entrichel, Jiri Privratsky and Filip Nepejchel went on to win the bronze ahead of Austria.
In the Women's 10m Air Rifle Team, India's reigning National Champion Rajshree Sancheti, Shreya Agrawal and Ayushi also crossed the first hurdle with a fourth best 942.7 but finished seventh in stage two with 625.0.
Comments