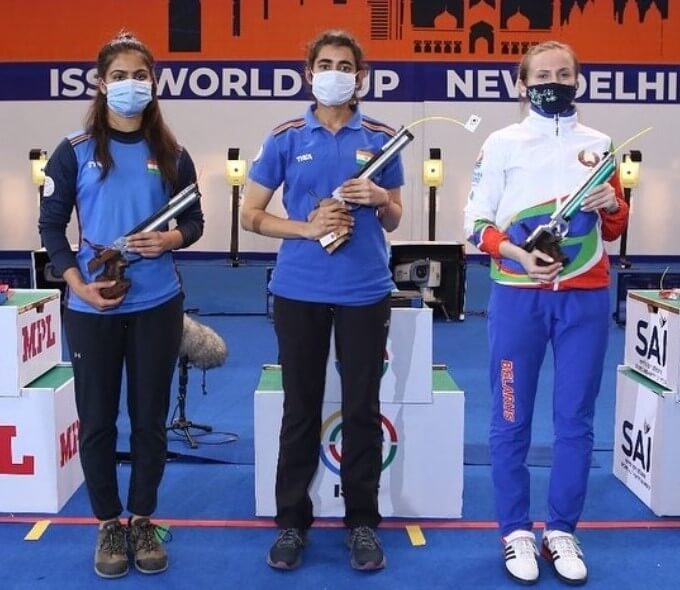 Olympic quota winner Yashaswini Singh Deswal personified consistency and calmness on her way to winning the gold medal in the Women's 10m Air Pistol ahead of her more celebrated compatriot Manu Bhaker at the ongoing ISSF World Cup in New Delhi.
Yashaswini shot the best qualification score of 579 and the followed it up with a 238.8 to win the yellow metal with a 2.1 point margin over Manu who is also an Olympic quota winner.
Viktoria Chaika of Belarus bagged the bronze with 215.9.
The other Indian in the final, Shri Nivetha Paramanantham, started well but had to eventually settle for the fourth place with 193.5.
This is Yashaswini second World Cup gold after the one at Rio de Janeiro, Brazil in 2019.
The Results:
Women's 10m Air Pistol: 1. Yashaswini Singh Deswal (India) 238.8 (579); 2. Manu Bhaker (India) 236.7 (577); 3. Viktoria Chaika (Belarus) 215.9 (571); 4. Shri Nivetha Paramanantham (India) 193.5 (575)). MQS: Shweta Singh (India) 573; Esha Singh (India) 567.
[gview file="https://www.indianshooting.com/wp-content/uploads/F000000IA2003211730.1.AP60W.0.001.pdf"]
[gview file="https://www.indianshooting.com/wp-content/uploads/Q000000IA2003211445.1.AP60W.0.001.pdf"]
Comments