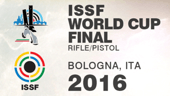 Putting his Rio Games disappointment behind him, India's Jitu Rai won a silver in the ISSF World Cup Final in Bologna, Italy on Thursday.
The ace shooter proved his critics wrong with a podium finish in the prestigious championship for the top eight performers of the year in each event.
The medal comes just a day after the NRAI review committee report — which slammed Jitu's foreign coach — was made public.
The 29-year-old's coach Pavel Smirnov came under a lot of criticism after the shooter failed to win a medal at Rio Olympics.
The four-member panel, constituted by the National Rifle Association of India (NRAI) to review the performance of Indian shooters at Rio, in it's report had mentioned the foreign coach was not well-versed with the precision events, which costed Jitu a medal at the Rio Games.
The army shooter shot an impressive qualification score of 568 (97,94,94,95,95,93) and followed it with a score of 188.8 in the finals, falling short of gold medal winner Pang Wei of China by 1.8 points.
Jitu got off to an impressive start in the final with a 10.6, 10.3 and 9.2 to take an early but had to struggle mid way through, as he fell behind Giuseppe Giordano (Italy), Wang Zhiwei (China), and Jindrich Dubovy (Czech Republic). In fact, the Indian shooter was 0.1 point away from elimination, with three more rounds to go.
However, Rai came right back into the contention to win a medal, shooting up 10.3, 9.4, and 9.5, 9.9 in the next two elimination rounds. He even managed to outscore gold medallist Pang in the final round with 8.8, 9.6. But Pang's lead was a bit out of reach for the Indian and had to settle for a silver medal. Giordano walked away with the bronze medal on his home turf.
This is Jitu's first medal at the ISSF World Cup Final. He has won six medals so far at the ISSF World Cups which includes two medals this year.
Congratulations to Jitu Rai. He needs to plan his next four year cycle meticulously .

— Abhinav Bindra (@Abhinav_Bindra) October 6, 2016
The Results.
1. Pang Wei (CHN) 190.6 (557), 2. Jitu Rai (IND) 188.8 (568), 3. Giuseppe Giordano (ITA) 170.3 (554).
Comments