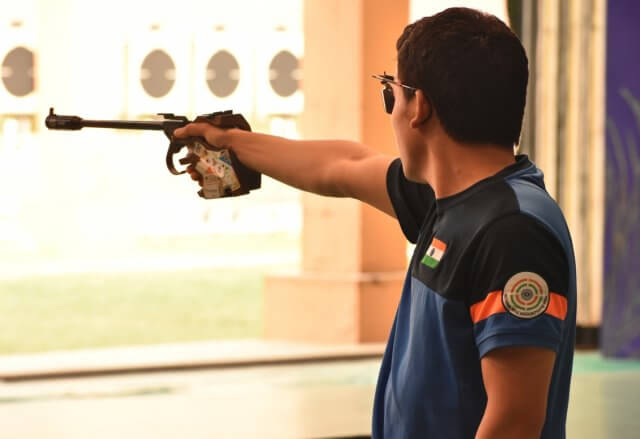 Olympian Jitu Rai asserted his class as he won the gold medal — with a new national record — in the Men's 50m Pistol at the 61st National Shooting Championship in Thiruvananthapuram.
The Army shooter shot the best qualification score of 559 which was six points more than Amanpreet Singh of ONGC.
In the finals, Jitu was bang on target as he shot 233.0 to win the gold and rewrote the final natonal record of 226.9 set by Amanpreet earlier this year.
Omkar Singh of Navy shot 222.4 to win the silver while Jai Singh of Army secured bronze with 198.4.
Earlier in the qualification, Commonwealth Games gold medallist Omkar shot 549 while Jai shot 547.
Jitu also won the team gold along with Jai and Omprakash Mitherwal (552) for a score of 1658.
In the junior men's category, Arjun Singh Cheema of Punjab shot 226.5 to win the gold. Another Punjab shooter Surinder Singh shot 221.9 to win silver while Anmol Jain of Haryana won bronze with 205.1.
Arjun and Surinder along with Mankaran Preet Singh also won the junior men's team gold.
The Results:
Men's 50m Pistol: 1. Jitu Rai (Army) 233.0 NFNR (559); 2. Omkar Singh (Navy) 222.4 (549); 3. Jai Singh (Army) 198.4 (547).
Men's 50m Pistol Team: 1. Army (1658); 2. Air Force (1626); 3. Punjab (1624).
Civilian Men's 50m Pistol: 1. Rajkanwar Singh Sandhu (PUN) 550; 2. Achal Pratap Singh Grewal 546 (PUN); 3. Tinjit Dhanota (PUN) 545.
Civilian Men's 50m Pistol Team: 1. Punjab (1617); 2. Haryana (1612); 3. Railways (1604).
Junior Men's 50m Pistol: 1. Arjun Singh Cheema (PUN) 226.5; 2. Surinder Singh (PUN) 221.9; 3. Anmol Jain (HAR) 205.1.
Comments