Olympian Mairaj Ahmad Khan bagged a bronze medal in Men's Skeet at the 6th Asian Shotgun Championship in Abu Dhabi on Wednesday.
Mairaj registered a score of 120 (25,24,24,22,25) to qualify for the top six. In the semifinals, he was in top form but missed one target which costed him a place in the gold medal match.
In the bronze medal match, Mairaj overwhelmed Naser Aldihani of ''Independent Shooting Participant'' 16-13. Sheeraz Sheikh was also in fine form as he qualified with the best qualification score of 121 (25,25,23,23,25) but shot 13 in the semifinals to finish fifth.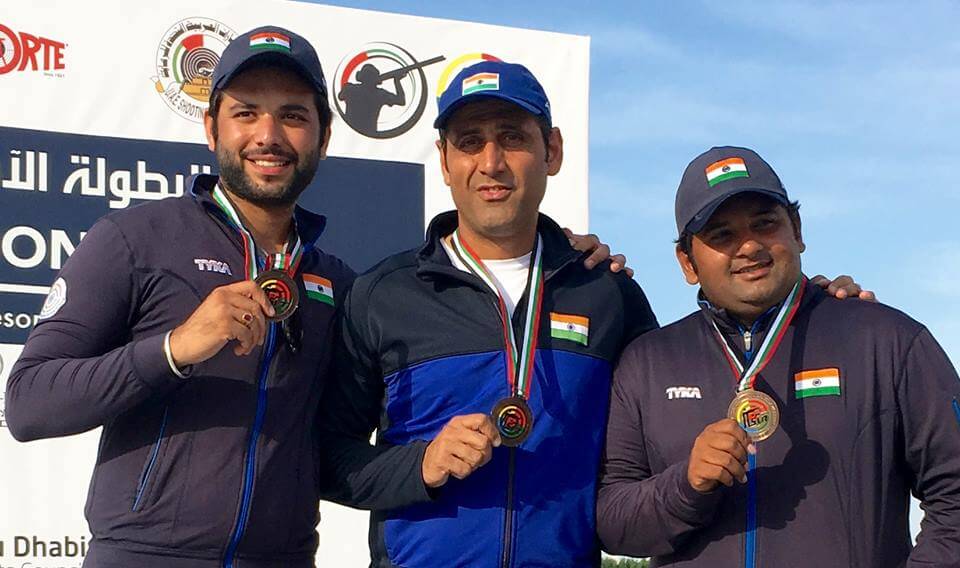 The Indian team of Mairaj (120), Sheraz (121) and Gurjoat Khangura (115) managed to grab the team bronze with a score of 356, the gold was won by ISP with 362 while Kazakhstan shot 357 to win the silver.
Mairaj had won a World Cup silver in Rio earlier and had shot 121 for the ninth place in Rio Olympics.
Competing in the MQS section, Angad Vir Singh Bajwa shot an impressive score of 121 (25,24,25,24,23).
Saeed Almaktoum of UAE beat Saud Habib of ISP 15-13 for the gold after both had shot 16 in the semifinals. Interestingly, Saeed Almaktoum had won the shoot off ahead of five others to make the knock-out from the qualification phase, after seven tied on 119 for the last two berths.
I want to take this opportunity to thank everyone for their support.Will always strive to deliver my best and make my country proud.Jai Hind

— Mairaj Ahmad Khan (@khanmairajahmad) November 9, 2016
Also, would like to extend my congratulations to my team mates for this brilliant performance.This year we got a Bronze now aiming for Gold

— Mairaj Ahmad Khan (@khanmairajahmad) November 9, 2016
The Results:
Men's Skeet: 1. Saeed Almaktoum (UAE) 15 (16) 119(14); 2. Saud Habib (ISP) 13 (16) 121; 3. Mairaj Ahmad Khan 16 (15) 120; 4. Naser Aldihani (ISP) 13 (15) 122; 5. Sheeraz Sheikh 13 (121); 16. Gurjoat Khangura 115. MQS: Angad Vir Singh Bajwa 121.
Team: 1. ISP 362; 2. Kazakhstan 357; 3. India 356.
Comments