Dilbagh Narwal's impact on elder son, Manish, has been profound. After all, the sportsman-turned-businessman from Sonipat is the reason why the 18-year-old has excelled as a pistol shooter. But more than Narwal Sr's relentless efforts in channelizing talent, Manish remembers what he was told by the father at a juncture when he did not quite understand the importance of the words. "A man's thinking makes him paralysed, not physical deformity."
As he gained in years, Manish realised the enormity of the statement, and used it as an inspiration to get better in a career he chose after a lot of deliberations and struggle. On Saturday, he became the second para shooter to be awarded an Arjuna Award after Naresh Sharma in 1997, but instead of being euphoric, the response was very muted. "I never thought of an Arjuna as the focus has been on my game. Rest of the things take care of themselves," he said from his home in Faridabad, where the family now resides.
Born with a deformity in the right hand, Manish was otherwise like any other child, just that his condition made him a quiet student at school. This did not escape Dilbagh's eye. A keen wrestler, who also had an interest in football and kabaddi, he ensured that Manish did not get a chance to stay at home and brood. Wrestling would have been the first choice for Dibagh but the risk of serious injury had him introduce Manish to football. The search for another sport started soon after the realisation that prospects weren't bright, and a lot depended on the team doing well. Deliberations went on for a while on the ideal sport but most of those taken into confidence said that Manish was not cut out for any sport.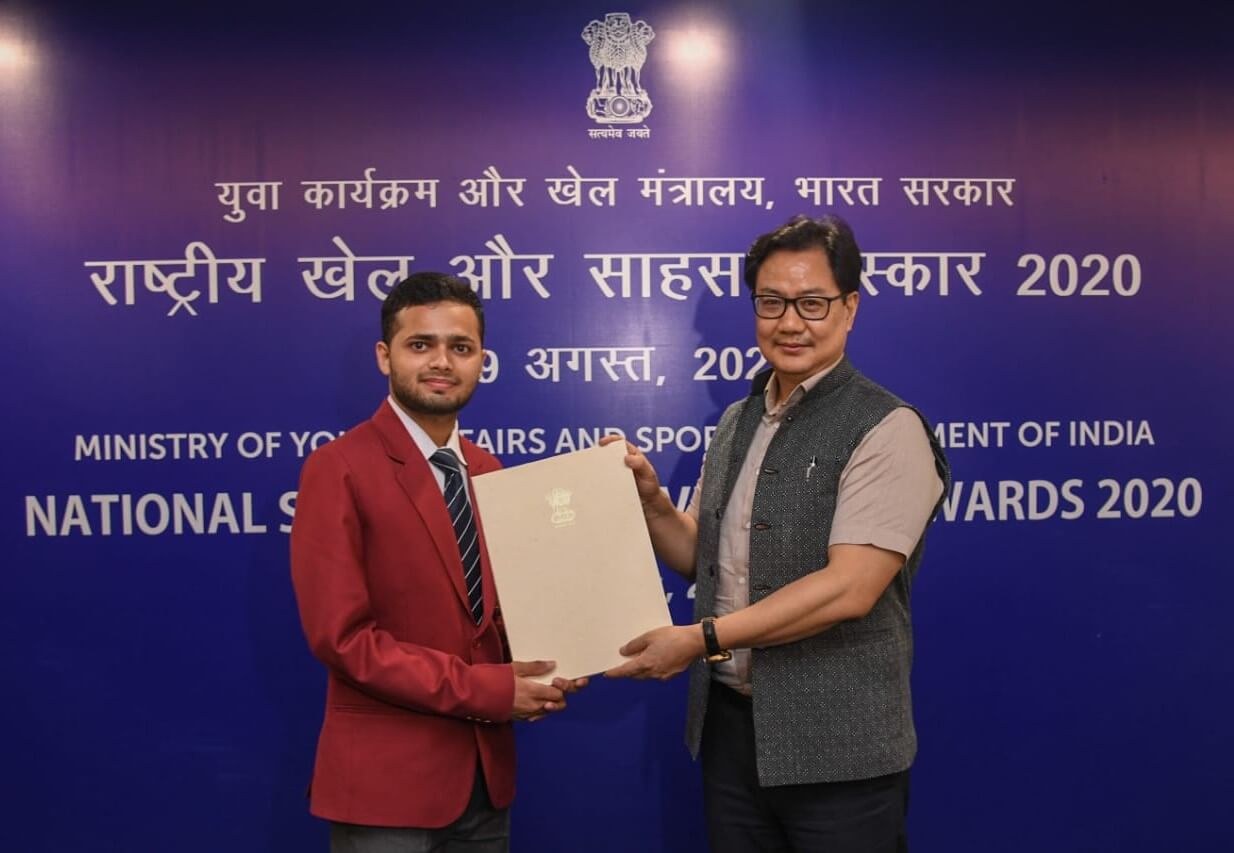 It was here that "Lala bhaiya", as Manish addresses the family friend, stepped in as a saviour. A shooter himself, the advice was to get Manish started in pistol shooting with a left-hand grip. Dilbagh was assured that Manish could strive for success in the individual sport and without the fear of injury. Thus, started a journey in January 2016 that has seen Manish cross one milestone after another, and the grandest of them could well await him at next year's Paralympic Games in Tokyo.
At the time he got started, there was another incident that put Manish at ease, but not before he underwent some stress. For long, the family was keen that the boy lead a normal life and advice was sought from several doctors on surgery as a remedy. The chances of his condition worsening were high and that led the family to abandon the thought. But just before Manish started to learn shooting, the desire to set the right hand right arose again. Another round of hospital visits started, and they led to nowhere. The advice was still the same, the risk was too high. This is when Dilbagh told his son about staying strong in spirit rather than let weakness get the better of him. There was no looking back as results started to pour in rapidly after Manish picked up the pistol for the first time at a range in Ballabhgarh. Given the short time span, the list is mindboggling. Manish has broken the world record nine times and Para Asian mark once in his pet events 10m and 50m air pistol. He won a gold and silver at the 2018 Jakarta Para Asian Games and got three bronze at last year's World Championships in Sydney. Add to this, the 19 medals at national events.
Impressed by his proficiency, Dilbagh also introduced his other children to shooting and the move has paid off as Shiva and Shikha have shown promise in able-bodied categories. Apart from Dilbagh's mantra, Manish has a motto of his own, "Whatever one does, it should be in full earnestness." Since the Olympic probables were allowed to train at the Karni Singh Range from last month, Manish's schedule is taxing, to say the least. He wakes up at 6am for an hour-plus session of physical training, followed by a four-hour practice at the range. Emerging from there, he goes to Ballabhgarh to train with younger brother Shiva and friends. The day ends with another round of physical training. Among other drills, care is taken to relax the arm muscles after four hours of standing still with the pistol in hand.
Training alone in Karni Singh is a concern as he competes against himself, but lessons learnt along the way have taught Manish to look at the positives. "It is easy to get disheartened, but since I started in 2016, there has hardly been any time for free practice. I am using this period to iron out flaws and get better for the Olympics."
Manish was lucky to complete his Class 12 exams just before lockdown is planning to get into college but is yet to decide on the subjects. "I will certainly complete graduation, but with the Olympics hopefully less than a year away, I want to focus on shooting. The other things will fall in place in due course," he said.
Sure, they will as that is a strategy that has worked for him in the past as well.
By Robin Bose
Comments