Teen sensation Manu Bhaker once again asserted her class as she won gold in the junior women's 10m air pistol with a world record  at the ISSF Junior World Cup in Suhl, Germany.
The Commonwealth Games gold medallist Manu, who qualified for the finals with the second best score of 573, was bang on target in the finals to win the gold with a world record of 242.5.
China's Lu Kaiman won the silver with 236.9 while qualification topper Li Xue of China was forced to settle for the bronze with 216.2.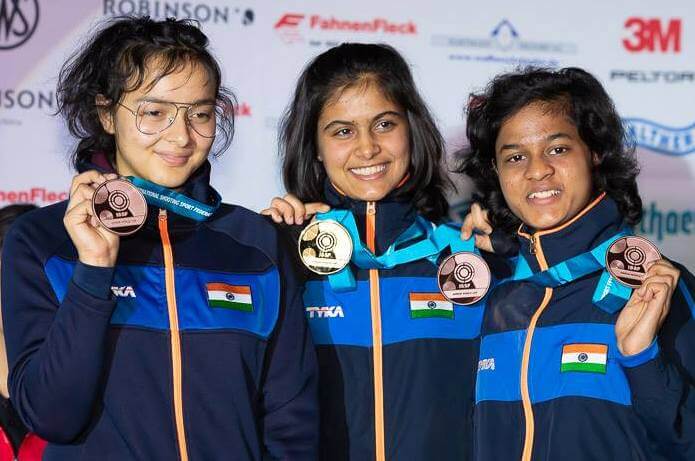 This was the year's third individual World Cup gold including one at the senior level for the 16-year-old Manu.
In the team event, the Indian trio of Manu, Mahima Turhi Agrawal (563) and Devanshi Rana (558) won the bronze with a total score of 1694.
Another Commonwealth Games gold medallist, young Anish Bhanwala bagged the bronze in junior men's 25m rapid fire pistol.
Anish made it to the finals with a qualification score of 575 and registered 24 hits in the finals to claim a spot on the podium.
The gold was won by Matej Rampula of Czech Republic while China's Zhang Jueming won the silver with 30 and 28 respectively.
The Results:
Junior Women's 10m Air Pistol: 1. Manu Bhaker (India) 242.5(WRJ) 573; 2. Lu Kaiman (China) 236.9 (569); 3. Li Xue (China) 216.2 (575); 16. Neha (India) 565; 20. Esha Singh (India) 565; 28. Mahima Turhi Agrawal (India) 563; 41. Devanshi Rana (India) 558; 52. Devanshi Dhama 556.
Team: 1. China 1710 (WRJ); 2. Italy 1701; 3. India 1694; 7. India-B 1686.
Junior Men's 25m Rapid Fire pistol: 1. Matej Rampula (Czech Republic) 30 (577); 2. Zhang Juening (China) 28 (576); 3. Anish Bhanwala (India) 24 (575); 8. Adarsh Singh (India) 573; 20. Harshawardhan Yadav (India) 560; 29. Anhad Jawanda (India) 553.
Team: 1. China 1732; 2. Ukraine 1712; 3. Germany 1710; 5. India 1701.
Comments