Pooja Ghatkar clinched bronze in the Women's 10m Air Rifle on the opening day of the ISSF World Cup being held in New Delhi.
The 28-year-old Pooja, a former Asian champion, shot 228.8 in the final to win her maiden World Cup medal, at the Dr Karni Singh Shooting Range.
Pooja had finished 4th in two World Cups held in Bangkok and Baku last year.
China's Mengyao Shi won the gold medal with a score of 252.1, setting a new world record in the event. Mengyao's compatriot Dong Lijie bagged the silver with a score of 248.9, seven years after her last World Cup participation in Belgrade in 2010.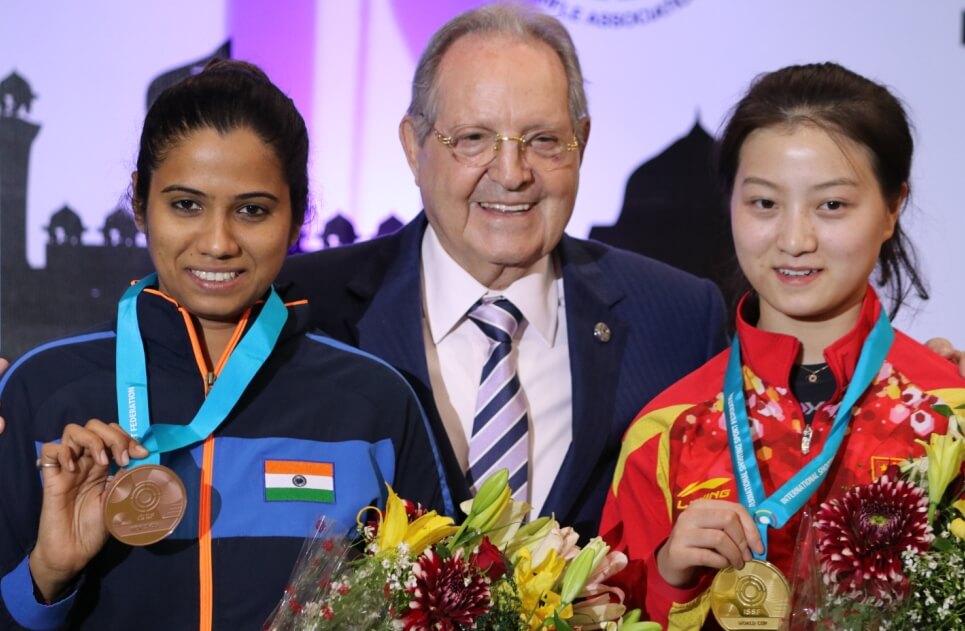 Ghatkar, who had narrowly missed out to make the cut for the Rio Olympic team last year, said she was looking ahead having buried that chapter.
"It feels great to win a medal in my home country, I really wanted to be on the podium this time. This is just a starting point for better results in the future", said Pooja.
Ghatkar, who started the final with a 10.4, was consistent with her scores barring a couple of blips and was placed second with 104.6 at the end of first competition stage. Even as the Indian kept producing good high scores, Lijie proved to be a tough competitor, while Mengyao extended her lead at the top with a score of 105.6.
After the 15th shot, Pooja's eye blinder broke which forced her to physically close her non-focusing eye during the final few shots.
Pooja fought neck to neck against China's third finalist Wu Mingyang, 20, debuting in the ISSF World Cup circuit today. The two youngsters were almost tied right to the 20th shot, when Wu slid 0.8 points behind Pooja, taking the 4th place with a 207.0 points.
Pooja managed a fine 10.8 and 10.7 on her 19th and 21st shots to assure herself of a medal.
Pooja acknowledged Gagan Narang's role in tuning her, both technically and mentally. "She used to struggle in matches. Today, she handled the match well, both in qualification and the final," said Narang.
In the qualification, Ghatkar finished in second position with 418.0 behind eventual champion Mengayo (418.6) and ahead of the Lijie (417.7).
The Results:
Women's 10m Air Rifle: 1. Shi Mengyao (CHN) 252.1 (WR) 418.6; 2. Dong Lijie (CHN) 248.9 (417.7); 3. Pooja Ghatkar 228.8 (418.0).
Also Read – Pooja Ghatkar was a better choice for Olympics
Comments