Indian shooters signed off with an unprecedented 25 out of 26 gold medals on offer at the 12th South Asian Games in Guwahati.
India gave away just one gold on the opening day of shooting competitions. Bangladesh Ahmed Sakil, winner of Men 50m Pistol title, was the only non-Indian to win a gold. His win with a very narrow margin of 0.3 points denied India a perfect 26 gold finish.
Jitu Rai's presence would have probably got India that one lost gold. Jitu has been on rest due to an injury on his hand and was not part of the team.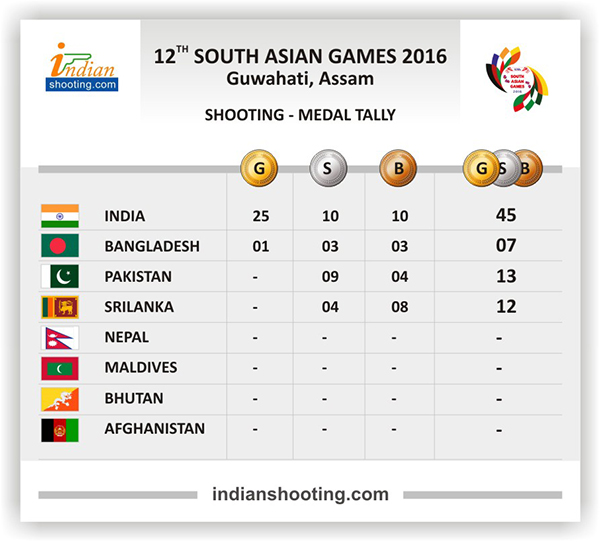 Nevertheless, the Indian shooters proved too strong for the South Asian countries. It was more of a competition among the home shooters themselves however few shooters from Bangladesh and Pakistan did push the Indians a bit in a few events.
The team had the best shooters with six of them who are Rio Olympic quota winners along with two Olympic medallists and several other Olympians.
Such was the strength that the home shooters ended with a record 25 gold, 10 silver and 10 bronze.
India did improve their gold winning performance since the last edition of the Games where they had won 19 out of 22 gold medals on offer while host Bangladesh had won the remaining 3 gold medals.
On the opening day of shooting competitions, Olympic quota winner Apurvi Chandela — just back from a competition in The Hague, Netherlands — opened India's gold account by winning the Women's 10m Air Rifle title.
The Games also showed the strength of some of the non Olympic quota winners like Shweta Singh who pipped quota winner Heena Sidhu.
Omkar Singh who won gold in the Men's 10m Air Pistol while quota winner Gurpreet Singh ended 6th. However it's also worth mentioning how Gurpreet bounced back with a gold in rapid fire pistol on the concluding day.
Promising youngster Anjum Moudgil also impressed with a gold medal winning performance in the Women's 50m Rifle Three Positions.
India dominated the Kahilipara range every day. It was an all Indian podium finish in as many as six events - Men's 25m Centre Fire Pistol, Women's 50m Rifle Prone, Men's 25m Standard Pistol, Women's 25m Pistol, Women's 50m Rifle Three Position and Women's 10m Air Pistol.
The "Golden Boy" of the Games was Chain Singh who won six gold medals, charging himself up enough to kick start his Olympic preparation.
Gold eluded Gagan Narang thrice but his National record breaking score of 628.9 in the Men's 50m Rifle Prone shows his preparation for Rio is well on track. He was however not satisfied with his performance in air rifle in which he won the bronze. Narang had the second best outing among the shooters with three individual medals (2 silver and 1 bronze).
The Games also saw some of the veterans proving they still had enough fire in their belly to shoot down medals for India.
Leading the veterans was 2006 Commonwealth Games hero Samaresh Jung who beat the likes of Vijay Kumar and Pemba Tamang to win gold in Men's 25m Centre Fire Pistol, Jung had last won an individual international medal in the 2010 Delhi Commonwealth Games. Kuheli Ganguly and Anuja Jung (Samaresh Jung's wife) won gold and bronze medals respectively in the Women's 50m Rifle Prone.
Apart from Jitu, the most popular Indian shooter Abhinav Bindra was also not a part of the team. Abhinav has been busy shooting competitions in Europe as a part of his Olympic preparation.
Comments