A twenty nine-member strong Indian shooting contingent, including Olympic medallists Gagan Narang and Vijay Kumar will be participating at the 12th South Asian Games (SAG) at Guwahati from 5th February to 16th February.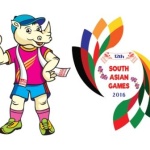 Gagan and Chain who are participating in all three rifle events are expected to win the maximum medals at these games.
With county's best shooters along with the five Olympic quota winners, it will be a cake walk for team India.
Former Olympic champion Abhinav Bindra has already started preparing for the Olympics with his training and competition stints in Europe, while Asian Games gold medallist and World Championship silver medallist, Jitu Rai has also sought to preserve himself for the bigger challenges ahead.
By the time the competition starts in the SAG, some more Indian shooters who figure in the list are expected to have attained the Olympic quota place in the last opportunity, the Asian Olympic qualification event to be staged in Delhi from January 25 to February 1.
The team also includes pistol ace Samaresh Jung along with his wife Anuja Jung. The couple has been named together for a competition after a very long time.
The shotgun events do not figure in the games, and thus skeet shooter Mairaj Ahmad Khan, who won a quota is not a part of the team.
The team:
Men's 50m Rifle Three Positions: Chain Singh, Gagan Narang, Surendra Singh Rathod
Men's 50m Rifle Prone: Gagan Narang, Chain Singh, Surendra Singh Rathod
Men's 10m Air Rifle: Imran Hasan Khan, Gagan Narang, Chain Singh
Men's 25m Centre Fire Pistol: Vijay Kumar, Pemba Tamang, Samaresh Jung
Men's 25m Rapid Fire Pistol: Gurpreet singh, Vijay Kumar, Akshay Suhas Asthaputre
Men's 25m Standar Pistol: Gurpreet Singh, Neeraj Kumar, Mahender Singh
Men's 50m Pistol: Om Prakash, Prakash Nanjappa, Omkar Singh
Men's 10m Air pistol: Jitendra Vibhute, Omkar Singh, Gurpreet Singh
Women's 50m Rifle Three Positions: Lajja Gauswami, Elizabeth Susan Koshy, Anjum Moudgil
Women's 50m Rifle Prone: Kuheli Gangulee, Tejaswini Sawant, Anuja Jung
Women's 10m Air Rifle: Apurvi Chandela, Pooja Ghatkar, Elizabeth Susan Koshy
Women's 25m Pistol: Anisa Sayyed, Rahi Sarnobat, Annuraj Singh
Women's 10m Air Pistol: Heena Sidhu, Yashaswini Singh Deswal, Shweta Singh
Comments