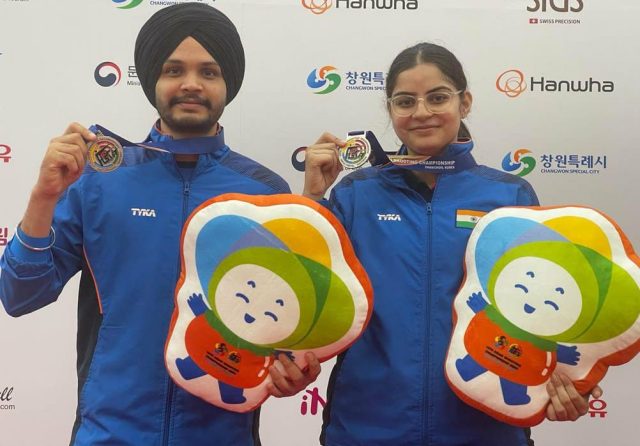 Sarabjot Singh and Surbhi Rao lost 4-16 to China Liu Jinyao and Li Xue in the gold medal match and settled for silver in 10m air pistol mixed team at the 15th Asian Shooting Championship on Wednesday.
This was Sarabjot's second medal at the ongoing competition in Changwon, Korea, after the bronze with Olympic quota in men's 10m air pistol on Tuesday.
Sarabjot and Surbhi shot the third best qualification score of 581 (20x) while Liu Jinyao and Li Xue finished on top with 581 (22x). China Jiang Ranxin and Zhang Bowen who won gold at the Hangzhou Asian Games, were placed second with 581 (21x) but as only one team from a country could make it to the medal matches, Sarabjot and Rao were drawn to play Liu and Li for the gold.
The second Indian team of Palak Gulia and Shiva Narwal shot 576 and finished 9th among 25 teams.
Korea beat Pakistan 17-13 in the first bronze medal match while Vietnam defeated Iran 16-14 for the second bronze.
Hangzhou Asian Games silver medallist Anant Jeet Singh Naruka missed out on a medal and an Olympic quota after finishing fourth with a score of 33 in men's skeet.
Gurjoat Khangura shot two perfect rounds of 25 for the third best qualification score of 121 but finished 6th in the final.
Naruka (119) pipped the Kuwaiti legend Abdullah Alrashidi in a shoot-off, who he had gone down to famously at the Asian Games, to clinch the sixth qualifying spot.
Angad Vir Singh Bajwa finished 9th with a score of 118 while Vikram Karn Singh, who competed for ranking points only (RPO), finihsed 40th with 107.
Two-time Olympian Rashid Saleh Al-Athba of Qatar won gold with a score of 53 (120). The silver was won by Kim Minsu of Korea with 51 (122) while Lee Meng Yuan of Chinese Taipei took the bronze with 41 (122). Kim and Lee also secured the two Olympic quotas on offer.
In the team event, Naruka, Khangura and Bajwa won the gold with a score of 358, one point ahead of Korea while Kazakhstan (355) finished third.
Ganemat Sekhon (118) finished the best among the four Indians in women's skeet to finish 15th. Karttiki Singh Shaktawat and Parinaaz Dhaliwal shot 107 each to end in 17th and 18th positions while Darshna Rathore (106) finished 19th.
Tokyo Olympic bronze medallist Wei Meng of China won the gold with a score of 54 (122) while her teammates Jinmei Gao with 53 (119) and Jiang Yiting with 41 (122) took the silver and bronze respectively.
Sekhon, Dhaliwal and Rathore finished 4th in the team event with a score of 321. The gold was won by China (363), Kazakhstan (337) won the silver while Thailand (329) took the bronze.
India now has six medals with two gold, two silver and two bronze.
Comments